**This post contains affiliate links and I will be compensated if you make a purchase after clicking on my links.
Note, these are different than mattress pads, that may only protect the top of your mattress.
In contrast, protective covers are designed to envelop the entire mattress or pillow and have a zipper or velcro—or both—to seal in the mattress. Think of it as a giant mattress condom.
Mattress covers are a bit of a pain to wrestle on and off, so I simply leave them there permanently.
I then layer on a mattress pad for extra protection and comfort. The latter gets laundered on a regular basis.
Protective covers come in different types so read the label carefully.
The basic version will simply protect "against stains" as simply another cloth layer between you and the mattress. These are the most economical, but not exactly "protective".
You'll want a cover that blocks all of the following
Bedbugs (optional)
Dust mites
Allergens (also pollen and pet dander)
In addition, your cover may be either:
Water-resistant, or
Waterproof
These terms have different meanings. Water-resistant "resists" water, but it won't help against a puddle of water that isn't sopped up quickly. "Waterproof" should provide greater water protection.
Also, note if the cover is:
Vinyl is waterproof but is famously not breathable. Sleeping on it you will find yourself in a literal pool of sweat. It also has an obvious crinkling sound when you lie on it. It's inexpensive, but not comfortable. Higher quality covers may indicate that they are "vinyl-free"
Polyurethane is both breathable and waterproof and found in high-quality covers
If temperature control is important to you, then stick to breathable.
Also be aware that although the cover encloses the entire mattress, it may not be considered an "encasement". Sometimes a different fabric may be used on the sides or bottom that may not share the same blocking properties.
I've seen some products that "block dust mites" but say nothing about bedbugs, even though the latter are larger and should be easier to block. The top layer has small pore sizes that block dust mites, but bed bugs could still squeeze themselves in via the looser weave on the sides or bottom. Or the zipper.
On the plus side, if you are not concerned with bedbugs, non-encasements have the best breathability.
Encasements
These protect the entire mattress, top, bottom, and sides, so bedbugs are blocked as well. They are slightly pricier than non-encasements.
Layla Full Encasement mattress protector. Six-sided protection for mattresses up to 14″ deep. Made of 100% stretchy polyester on the top, plus thermoplastic polyurethane on the back (waterproof). Protection against bed bugs, dust mites, and the usual liquids and stains.
30-day guarantee
Bear Encasement. 6-sided protection. BedBugBanisher® plus protection against allergens, dust mites, mold, and other irritants. A 360° zipper wraps around the mattress, making it easier to remove. Made of 100% polyester knit fabric. Breathable "fluid-proof technology" (polyurethane).
100-night trial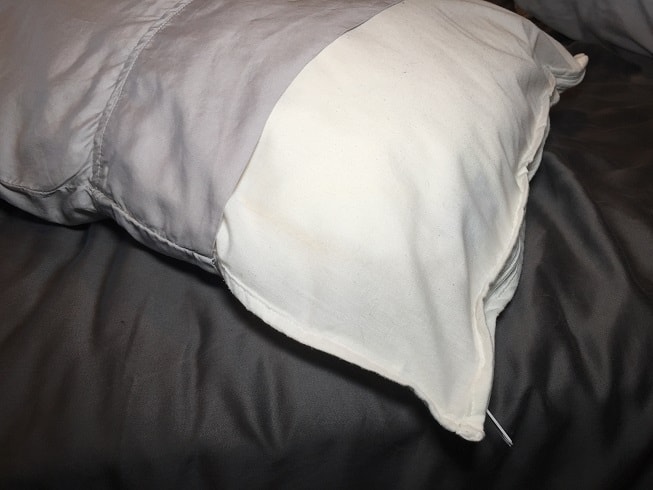 Pillow protectors are zippered and act as a second protective pillowcase. Protection against allergens and dust mites are the most critical for allergy sufferers.
If you have feather pillows that are constantly poking out quills, protectors such as these may help keep those feathers contained.
(If you are allergic to down or feathers, these may be a fix, but I would consult with your allergist first.)
As these don't touch you directly, they won't need to be laundered as often as your pillowcases. However, they should be laundered occasionally, perhaps along with your mattress pad.
Pillow protectors—Cooling
For optimal cooling, avoid cotton and look for a protective cover made of a cooling fabric, such as bamboo. Also, certain polyester blends may be designed to be breathable and moisture-wicking.
Note that many cooling covers are designed to be more breathable and may not necessarily protect against allergens, dust mites, or fluids.
Cosy House Bamboo pillow protector review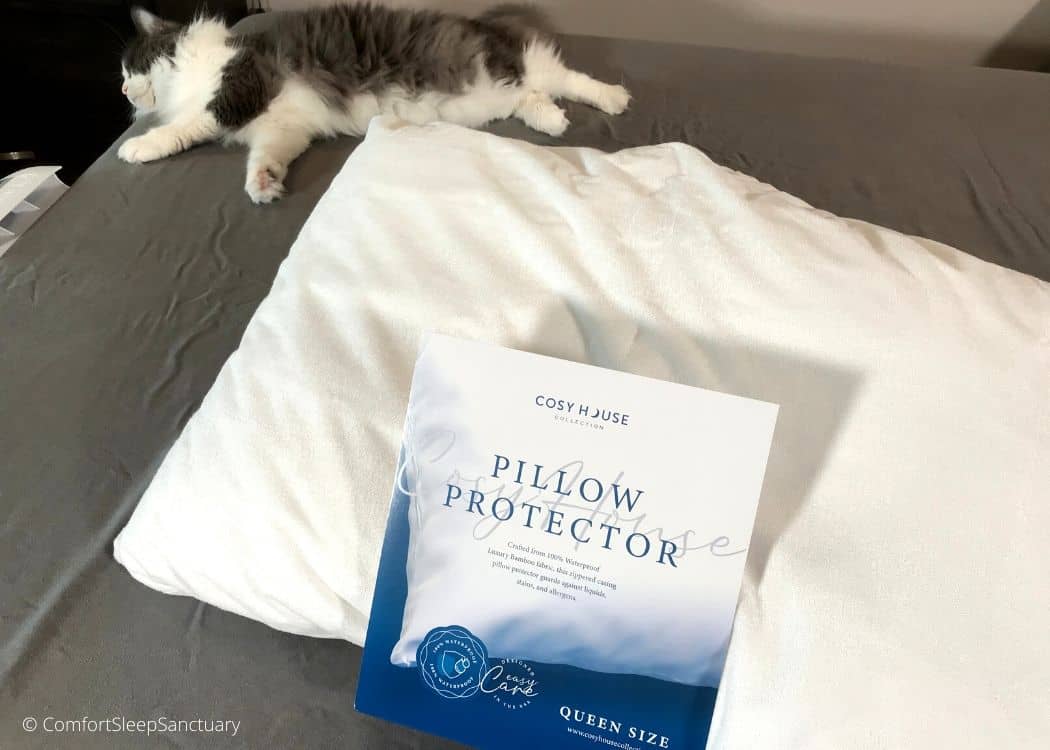 These are made of a mix of 70% rayon (bamboo) and 30% polyester. They have a "terry cloth" cover that feels nice and soft.
One thing to note, they are only available in queen and king sizes. I have standard-sized pillows, so the cases were a bit loose. This is fine if you are okay with the firmness of your pillow.
However, one "hack" to firm up your pillow is to place it in a zippered cover that is a tad small. This can be either a protector or a pillowcase. Perhaps the case is slightly shrunken due to drying in a hot dryer, for example.
The smaller cover will force the pillow to scrunch up, improving both firmness and loft.
As a result, my pillows were a tad flatter due to the larger case.
PlushDeluxe Premium Bamboo Pillow Protector. Waterproof, protects against allergens, dust mites, and bedbugs. Outside made of 40% bamboo, 60% polyester; inside of 100% laminated polyurethane (breathable waterproofing). Machine washable.
Covers for mattresses & pillows
Review:
Bear Mattress Protector
Review:
Mediflow water pillow
Review:
Bearaby Tree Napper
Heated Blankets & Mattress pads
Wool Blankets & Comforters
Bed heating & cooling systems