**This post contains affiliate links and I will be compensated if you make a purchase after clicking on my links.
Is heated bedding for you? For a deeper dive, check out my post HERE.
There are two main ways to heat your bed: from either above or below. A heated blanket is (usually) intended as a blanket on top of you. A heated mattress pad covers your mattress and heats from below.
As a bonus, also consider a heated throw, a smaller blanket for watching TV on the couch.
Heated mattress pad vs heated blanket
Heated mattress pad

Heated blanket

Pros:

Direct therapeutic heat for soreness
Stays in place; good for blanket stealers and those who toss and turn

Pros:

Too hot? Simply toss the blanket aside
Singleton on a Queen-sized mattress? Purchase a full-sized blanket with a single control

Cons:

Too hot? You're out of luck. (Electric pads only.)
Single control for queen-sized pads rarely available

Cons:

May not stay in place for those who toss and turn; risk of being taken by blanket stealers
The biggest advantage of a heated mattress pad is that it stays in place and may provide more direct heat if you suffer from sore joints or muscle.
The biggest advantage of a heated blanket is that if you get TOO hot you can simply toss it aside to cool off.
The right size
Note that most Queen and King sizes are intended for two people and have dual controls. If you are a single person on a queen-sized bed, go with the full-sized blanket with a single control.
Mattress pads are less flexible. Most are designed with fitted sides with elastic to fit your size mattress.
If you purchase one of these, you'll need to buy a queen-sized pad for a queen-sized mattress, so you may be stuck with dual controls.
If you are a singleton on a larger mattress, look for smaller mattress pads, such as a twin or full, that can accommodate a larger mattress. These models may be a pad with flexible straps to attach it to your mattress, rather than fitted sides.
Sure, this arrangement won't cover your entire mattress, but I suspect that most of you sleep in the same position on your mattress, either one side, or in the middle.
Likewise, if only one person in a couple is interested in an electric mattress pad, it's more cost-effective to purchase a twin that can fit on one side of a larger mattress.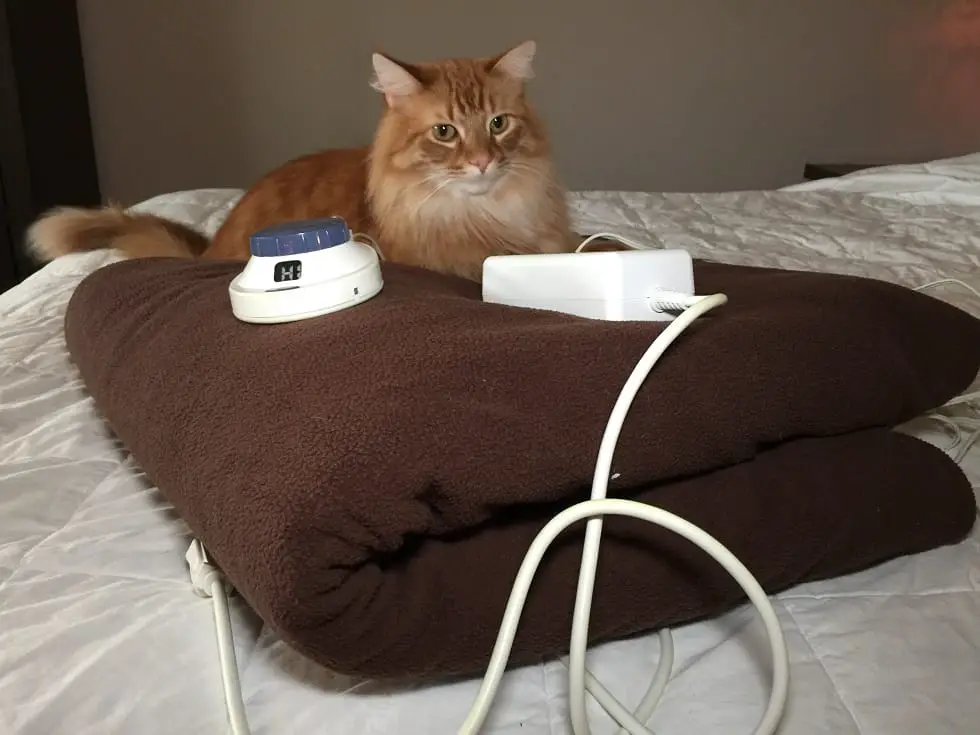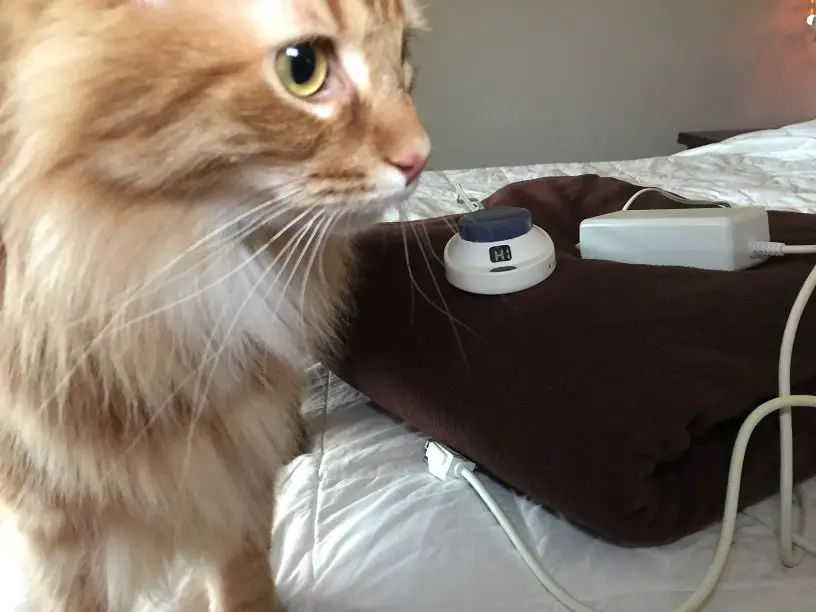 This model has a transformer box that reduces the 123 volts in my home to around 24 volts. This low voltage blanket should be safer than other models.
Electric bedding features to look for
The most common (and cost-effective) way to have heated bedding is via electric wires that run throughout.
Here are features to look for:
Auto safety shut-off, for overheating. This should be standard in all electric bedding.
Auto shut-off timer. Bedding should shut itself off after around ~8 hours, so you don't accidentally let it run during the day. Throws have shorter timers, such as 1 hour.
Low voltage. Smaller wires and added safety.
With low voltage, you are less likely to electrocute yourself, start a fire, overheat, and most importantly, your exposure to electromagnetic fields (EMFs) is significantly reduced.
No, we are not worried about EMFs from our household appliances, because we stand a distance away. But sleeping directly next to wires for many hours a night is a different story.
There have been many observational studies looking at electric bedding use and the risk of cancer. The results have been mixed.
In other words, it may be best to limit your exposure to EMFs from bedding, especially those produced by a regular (not low voltage) electric blanket or mattress pad.
Optional features include:
Multiple heat settings. With more settings, you can achieve the perfect temperature.
Adjustable sleep timer. Shut the blanket off after a designated time.
Additional programming. Adjust the heat throughout the night.
Pre-heat setting. If you forget to pre-heat before getting into bed, this feature will blast the heat for a limited time, then revert to your preferred temperature.
Waterproof or water-resistant (mattress pads). Look for the addition of breathable polyurethane.
Electric bedding safety tips
Like most things, electric blankets and mattress pads may be used safely if you apply a bit of common sense.
Before placing on your bed, inspect your blanket for any potentially broken wires
Ideally, don't sleep with it running. Use it to pre-heat your bed, then turn it off.
Alternatively, use one with a timer feature
If you do keep it on, use on low heat only
As always, follow the manufacturer's instructions for proper use
If your furry friends are prone to tearing your blanket, consider using a low voltage electric blanket (or GFCI extension cord)
Don't use metal pins, as you might pierce a wire. And metal conducts electricity.
If you can't find your instructions and you can't remember how old your blanket is, look up the model online. It should have an auto-off safety feature. If it doesn't, use it for pre-heating only. (Or consider purchasing a new blanket.) Unplug it before turning in.
If you are diabetic or have any neuropathy (nerve damage) where you may not be able to feel heat in your extremities, then avoid these products. Likewise, avoid use with children or the elderly.
Other ways to get a cozy bed
Electric blankets and mattress pads are only one way to heat your bed. A safer method is to utilize a bed climate system.
These systems use either heated water or heated air to warm you up. No sleeping on or under electrical wires!
(Confession: I no longer use my electric blanket, linked below. Instead, I've switched to using a BedJet. See my full review here.)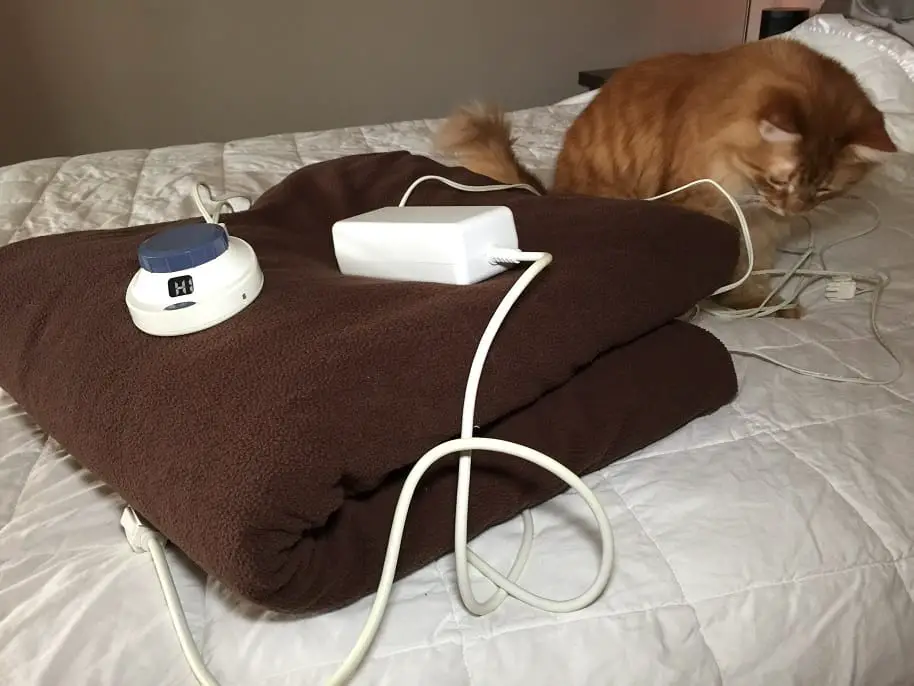 Safety tip: don't let your pets chew on the wires!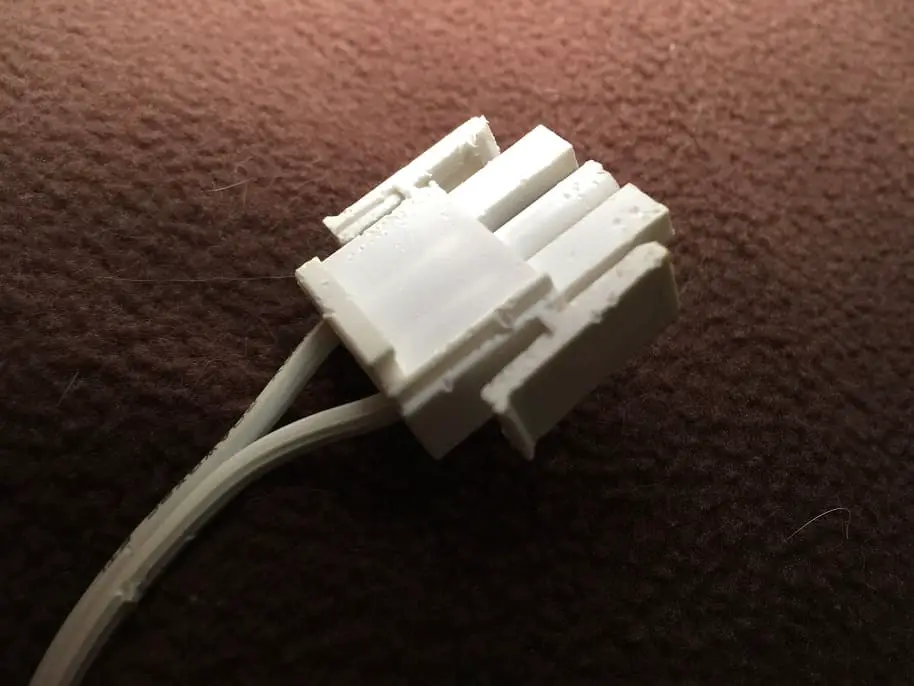 I purchased this full-sized blanket with a single controller for my queen-sized bed. The color is "chocolate."
(Yes, the dark color highlights stuck-on cat fur. Consider a lighter color instead.)
SoftHeat Electric Warming Blanket. Fleece with "micro-thin" wires. Low voltage. Allegedly "emits no EMFs" (but I'm sure there's some). 10-hr auto shut-off. Machine wash warm and tumble dry on low.
Note that SoftHeat sells a second blanket style (#affiliate link), also low voltage. (However, customers have complained about a "crinkly" inner layer intended to hold in heat, but may actually be too hot for some. The SoftHeat blanket I own—above—doesn't have this inner layer.)
(Serta also has a more expensive branded model that is identical to the SoftHeat.)
Electric blanket throws
Nothing is better than curling up on the couch wrapped in an electric blanket throw. Although low-voltage models are harder to find, you could always purchase a twin-sized SoftHeat, above.
A higher voltage blanket isn't a bad choice for a throw as your exposure will be limited. And you will most likely be using it while awake.
Even though a throw is smaller than a regular blanket, you can still use it on your bed. Just turn it off before turning in.
Here are some highly-rated choices:
Electric mattress pads
SoftHeat also makes highly rated low-voltage mattress pads:
>> Want to be cozy without electric wires? Read MORE, about heated bedding, minus wires.
Electric bedding for pets
Obviously electric bedding is not for wire-chewing pets, but both dogs and cats enjoy the added heat. This can be especially beneficial for older arthritic animals.
Your pet should be completely mobile and able to get away from the bedding if they overheat.
Most will simply prefer to sit on your heated bed (like mine), but you can get them their own.
Covers for mattresses & pillows
Review:
Bear Mattress Protector
Review:
Mediflow water pillow
Review:
Bearaby Tree Napper
Heated Blankets & Mattress pads
Wool Blankets & Comforters
Bed heating & cooling systems