**This post contains affiliate links and I will be compensated if you make a purchase after clicking on my links.
Cooling comforters
If you wish to stay cool, these comforters and blankets should be combined with some type of cooling sheets.
>> For a full explanation of the different cooling fabrics see my post HERE.
The cooling mechanism doesn't need to match. You don't have to match Outlast® sheets to an Outlast® comforter. You could have linen sheets, a lyocell blanket, and an Outlast® comforter on top.
The point is, your cooling bedding will not work if mixed with conventional cotton bedding.
For a long time, I would "layer" a flannel 100% cotton sheet between my sheets and comforter, intending it as a super-thin blanket. And I wondered why I was getting so hot.
Buffy Breeze Comforter review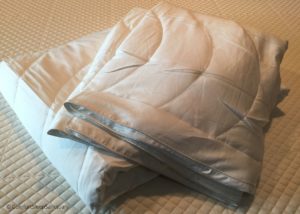 The Buffy Breeze, right out of the package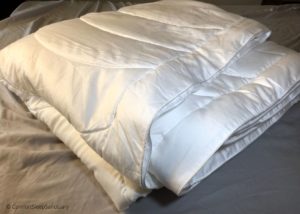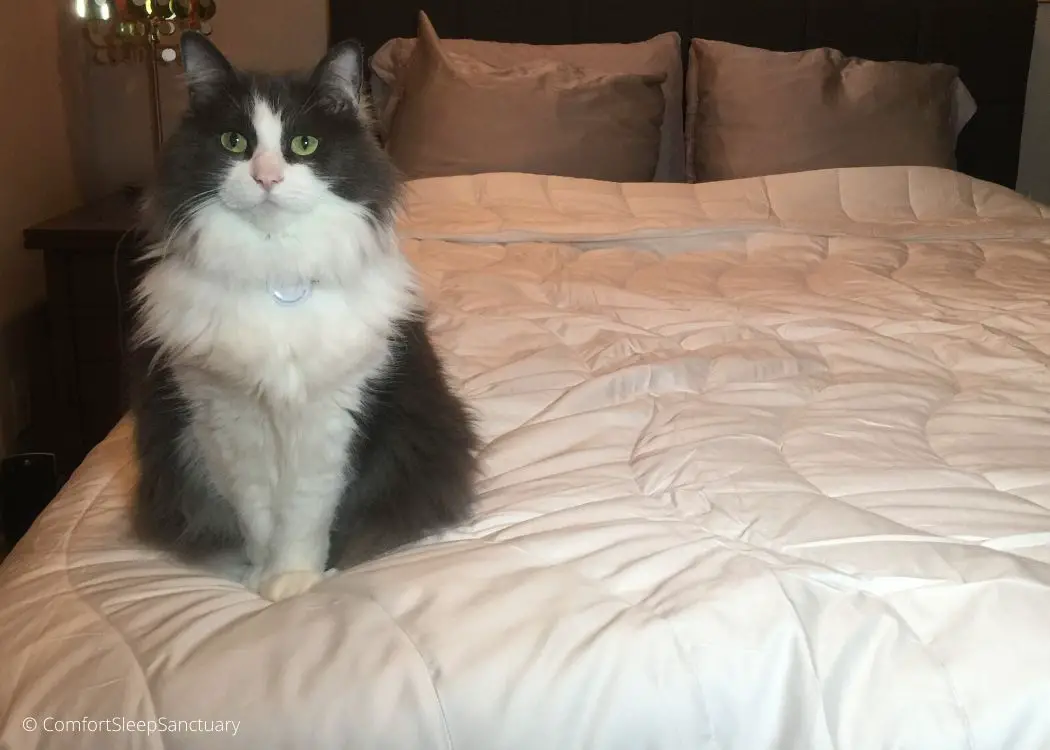 Serafina approves of the Buffy Breeze.
This comforter's claim to fame is that it is 100% Eucalyptus Lyocell: both the outside cover and the fill are 100% Eucalyptus.
I've written previously on the wonders of cellulosic fibers, such as Lyocell. These fibers are derived from wood pulp, in this case, wood from the Eucalyptus tree. Unlike cotton, these fibers absorb moisture and keep it away from your skin. This keeps you cool in summer, and warm in winter. Likewise, these fibers are hypoallergenic and antimicrobial.
Lyocell feels soft to the touch, like a cross between cotton and silk. The Buffy comforter is no exception, feeling soft and light.
This comforter is thin, less than an inch thick. It is intended as a "summer-weight" comforter for hot sleepers or those who prefer to layer. [Update: the comforter puffs up significantly with use.]
The outer Lyocell shell resembles sateen fabric with a shiny finish. (However, this fabric is prone to cat-claw pokes.) Stitching and the edge finish are of high quality. There are even small loops at the corner for an optional duvet cover if white is not your preferred color.
I paired this comforter with my favorite Lyocell sheets and felt like I was sleeping under a soft cloud.
Despite its thin size and light weight, this comforter is insulating and will work as a good layer in winter.
I have used the comforter both with and without my BedJet Cooling system. It may be a tad too insulating for my hot-sleeping needs, but that's more a reflection of my biology and not a ding against the product.
For those who wish to convert to Lyocell and similar healthier bedding, I recommend this comforter.
Buffy Breeze Comforter. Made of 100% Eucalyptus—both the shell and stuffing. Sustainably sourced from Austria. Free shipping; free returns (within 30 days).
Note: Buffy recommends "for best results, dry clean only", however, Lyocell is machine-washable. (Stay tuned…I'll attempt to machine-wash my comforter at a later date.)
Also, check out the Buffy Cloud Comforter. For a little less money you get a Eucalyptus shell with a fill made from recycled plastic bottles.
Sheets & Giggles Eucalyptus Comforter review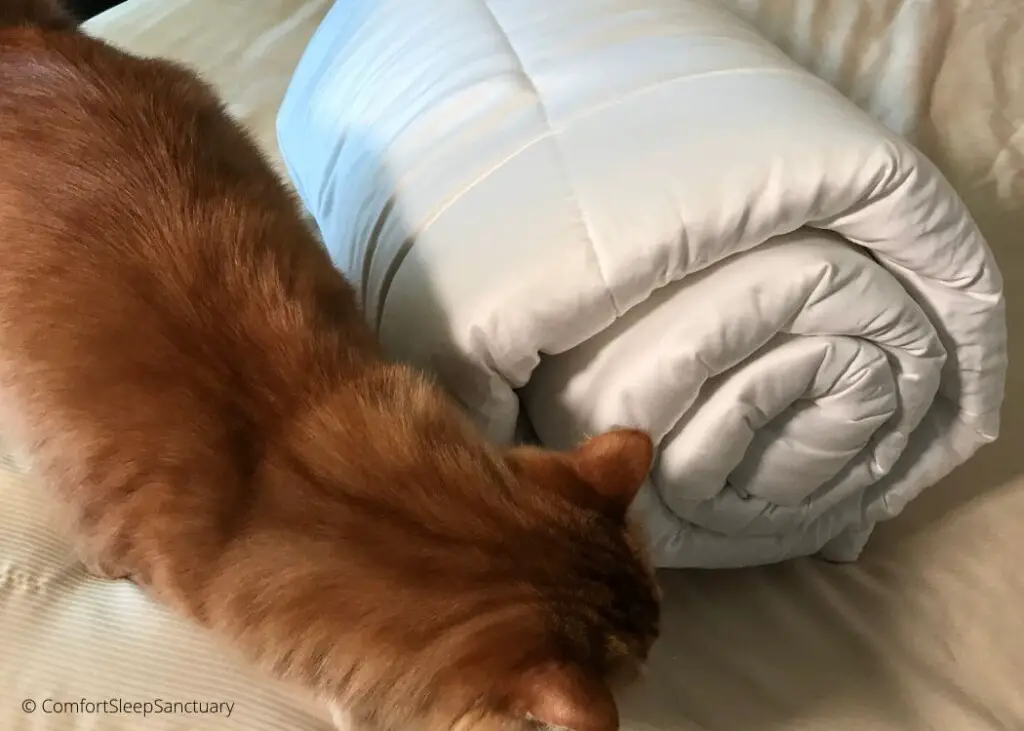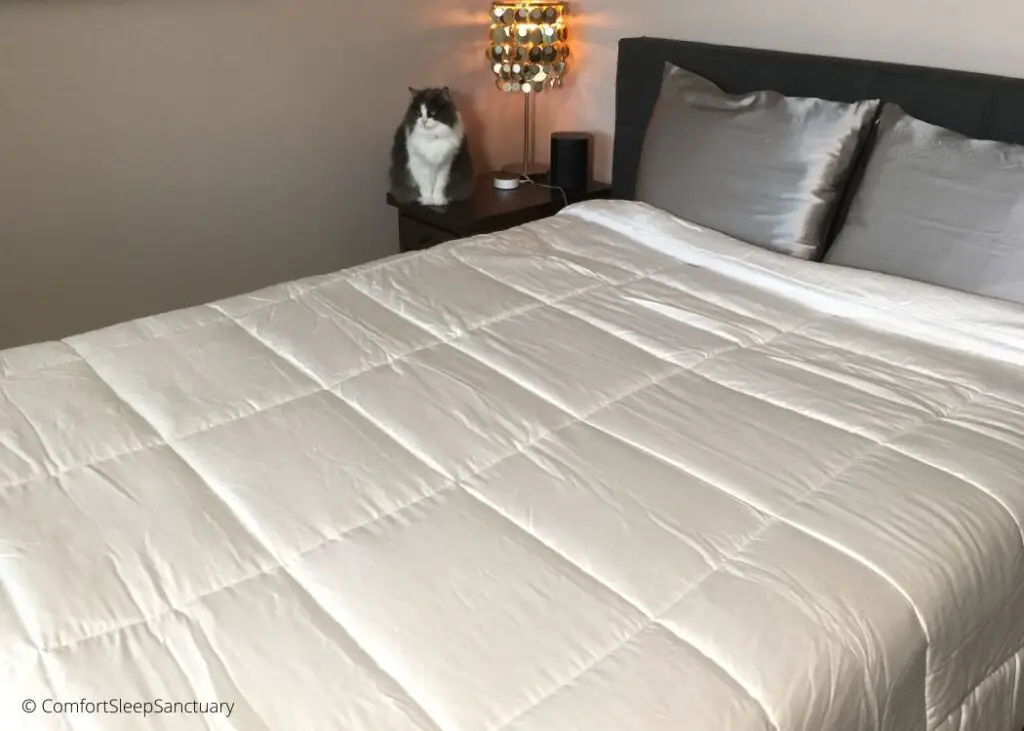 Sheets & Giggles, which also makes excellent Eucalyptus sheets, has a new comforter product, also made from Eucalyptus Lyocell.
Like the Buffy comforter, this comforter is covered in 100% satin-like Lyocell. The S&G comforter has a traditional square quilt-like stitch pattern while the Buffy has a wave pattern.
(For both comforters, yes, cat claws can do some damage to Lyocell. Consider either a duvet cover or a third sheet to cover your comforter. Both comforters have corner loops to accommodate a duvet cover.)
This comforter is around an inch thick but feels heftier than the Buffy. The stuffing is a bit different. While the Buffy Breeze is stuffed with 100% Lyocell, the S&G comforter is stuffed with 50% Lyocell and 50% recycled polyester (recycled from plastic bottles).
This comforter feels like a slightly more-weighty cloud.
Does the polyester fill make a difference when it comes to heat transfer? It's hard to say, as "fills" hold a significant amount of air, to begin with.
I'm enjoying both the Buffy and the S&G comforter, and at present, don't have a clear favorite. But stay tuned…
Sheets & Giggles Eucalyptus Comforter. Cover of 100% Eucalyptus Lyocell, with fill made of 50% Lyocell and 50% recycled polyester fill made from recycled plastic bottles. Eucalyptus sustainably managed.
Dry-clean or machine wash recommended.
Free shipping for the US. Free returns any time (within reason).
Due to a minor cat vomiting incident, I was forced to machine-wash my S&G comforter sooner than expected. It fit in my machine, but barely. And it came out just fine.
As for a favorite, I'm leaning towards the S&G. I prefer the look of the Buffy with the "wave" stitching. Likewise, its lightness should help prevent over-heating. However, the S&G feels a bit "weightier".
As a fan of weighted blankets, I prefer weight. As I'm "cheating" and using my BedJet to keep cool, I can get away with a hotter comforter.
If you don't have a BedJet you may prefer the cooler lightness of the Buffy.
BONUS VIDEO: Battle of the Cooling Comforters
Brooklinen Linen Quilt review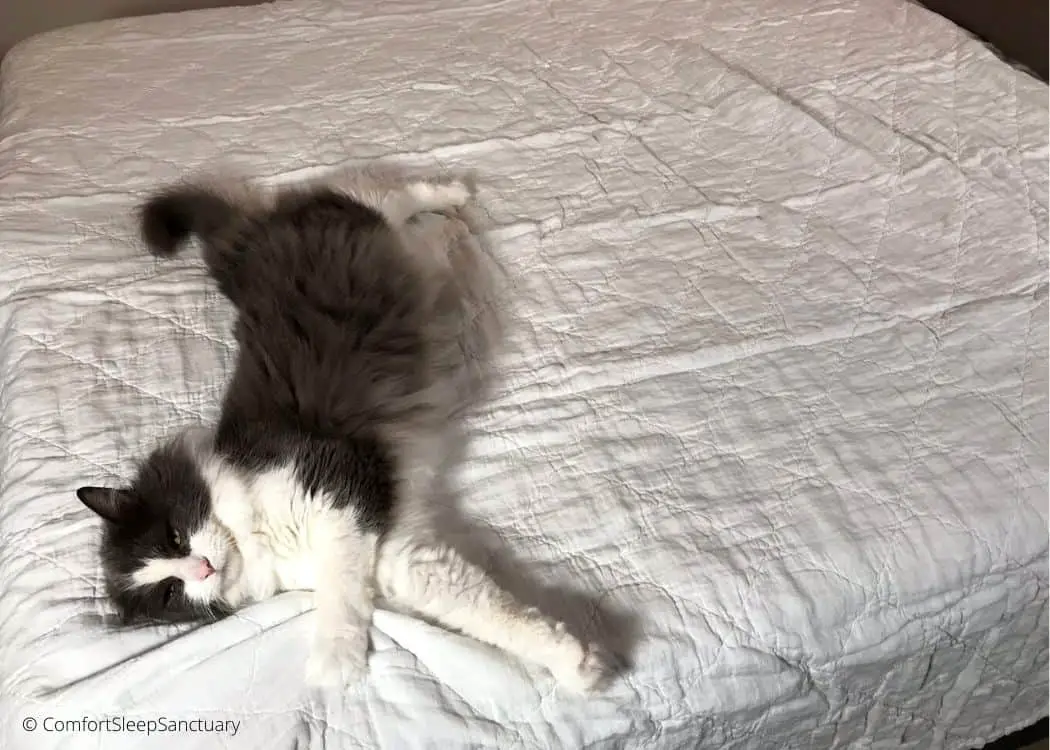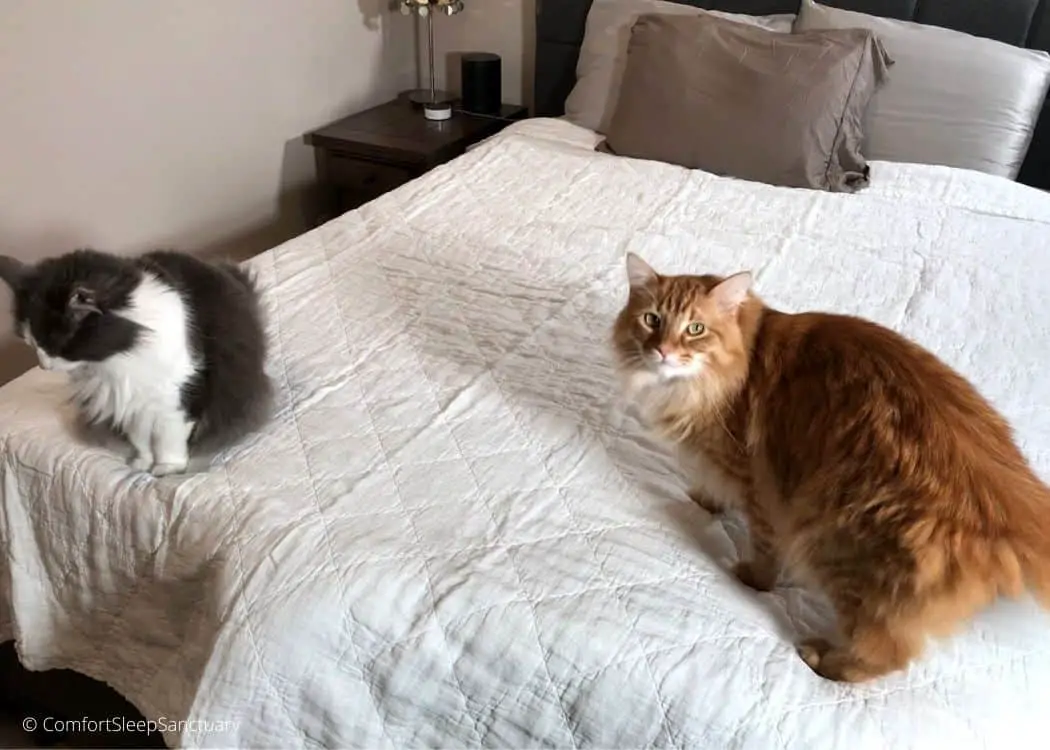 As it is late June, I'm in search of a light blanket. At this time of year, a comforter is far too thick—even the cool versions reviewed above.
I wanted something thin, but also made of a cooling fabric. This quilt fits the bill. It's effectively two linen sheets with a thin layer of polyester batting quilt-stitched in between.
It's the perfect thickness! Despite the polyester batting, it breathes just fine, keeping me cool and comfortable.
Use it with or without your top sheet!
Brooklinen Linen quilt. Stonewashed linen from Belgian and French flax. Diamond-stitched detail, filled with 100% polyester. Machine-washable; tumble-dry on low heat.
365-day return policy.
LUXOME Lightweight Bamboo Blanket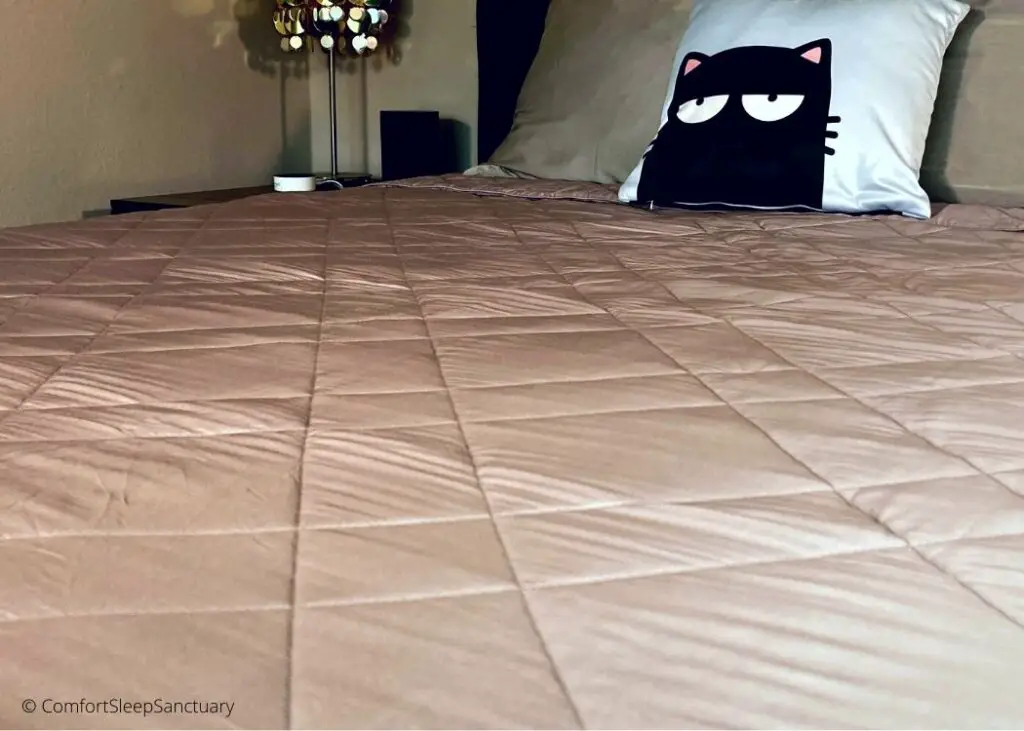 I'm a big fan of LUXOME's bamboo weighted blanket. In fact, it might be my favorite… However, it's far too much for August.
Therefore, I was excited to try out their NEW thin bamboo blanket. Like its weighted cousin, this blanket is covered in shiny silk-like 100% bamboo. AND its fill is also 100% bamboo.
I ordered "Dove" which is a lovely champagne pink.
It's very cool and light, like the Brooklinen quilt above. It will definitely be part of my "summer" rotation moving forward.
It is prone to wrinkles, not just out of the package. LUXOME recommends placing it in the dryer on high for 20 minutes. Alternatively, you can spray it down with water—its bamboo, it dries immediately. It's machine-washable, but ironing is forbidden.
If you wish to add a protective duvet cover, the blanket has small loops at the corners for attaching a cover.
Highly recommended!
Climabalance Lightweight Comforter review
Value Pick!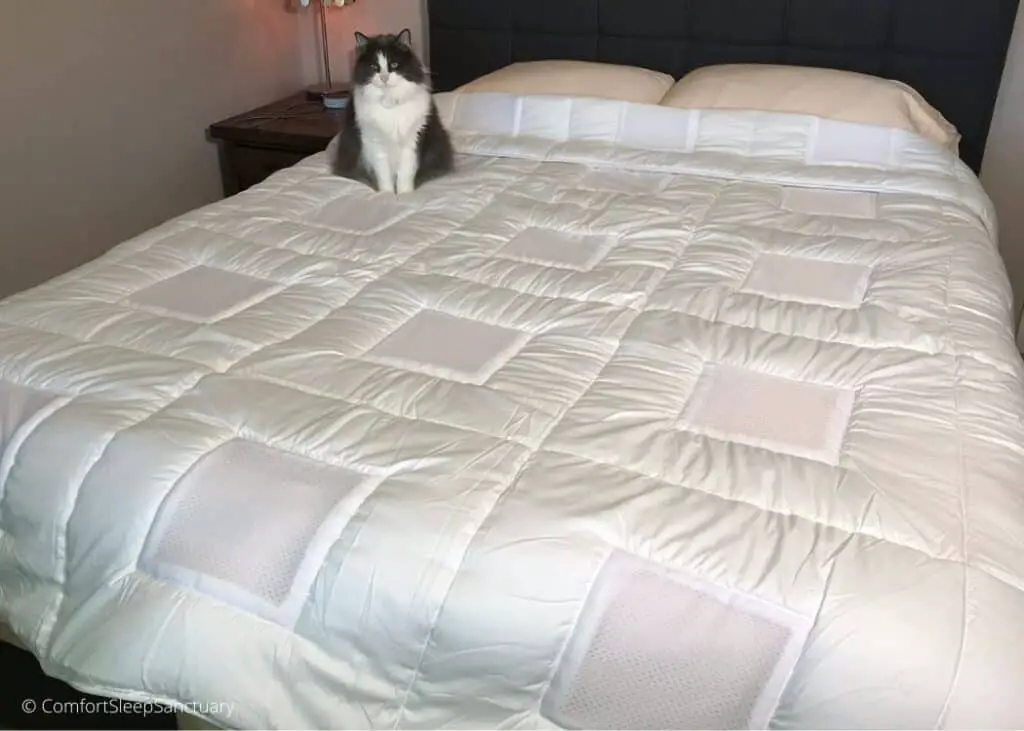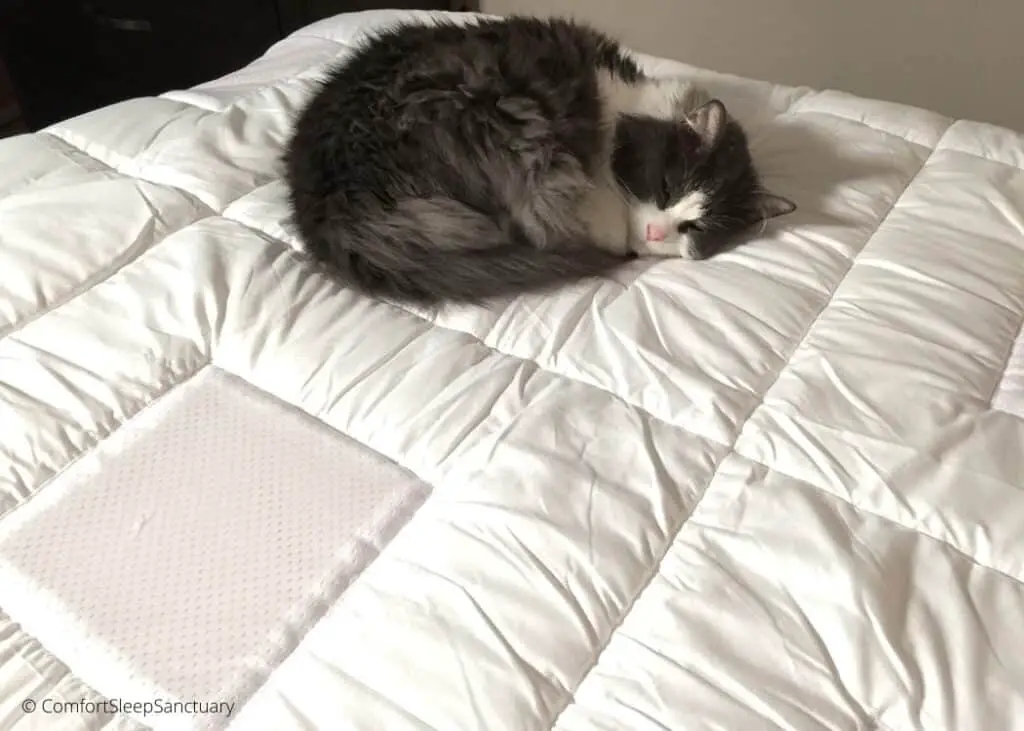 Developed in Germany in collaboration with sleep scientists, this comforter is interspersed with squares of microfiber mesh fabric. These mesh squares allow excess heat and moisture to escape, keeping you cool. The non-mesh areas are like other comforters, made of polyester and polyester fill, which keep you cozy.
German sleep researchers found that the comforter helped subjects fall asleep faster, and stay asleep with a longer REM phase. (Although I was unable to verify the details of these studies.)
This comforter feels very cloud-like—like the Buffy Breeze (above). Likewise, it provides comparable insulation.
For me, this was too much insulation for summer use. I had to use my BedJet to keep myself cool. As this comforter is designed to maintain a balanced temperature, it could be that I simply prefer to sleep at a cooler temperature than the average person it was designed for.
(Or it could be that I slept with a top sheet underneath the comforter—unlike your average European. Although Lyocell sheets are very breathable, perhaps just enough warm air was trapped…)
But for cooler seasons, it should be just fine. I plan to alternate with the other comforters reviewed above.
You always have the option of placing this comforter within a duvet cover, however, a cover will interfere with heat exchange, and increase warmth. This could be a good strategy in the winter but should probably be avoided in other seasons.
As it's made of polyester, it is completely machine-washable in as hot as you like. Tumble-dry as usual.
Usual 30-day return policy.
Where are the duvet covers?
I'm not a fan of duvet covers. Some cost almost as much as the comforter/duvet you're trying to protect. They should be laundered on a regular basis, however, getting your duvet in and out of the cover is a challenging process (inspiring many YouTube how-to videos).
As an alternative, consider triple sheeting. Simply place an extra flat sheet on top of your duvet and tuck in the sides of your bed.
However, if you must have a duvet cover, check out our page of recommended sheet sets. Most brands also offer matching duvet covers.
(Aside: if you are BedJet user, I have found, however, that a duvet cover makes an excellent DIY Cloud Sheet replacement…)
Prefer a WEIGHTED blanket instead?
Cooling weighted blankets made with Bamboo or Lyocell
A note on comforter and blanket care
As I've mentioned often, I wash all my bedding in hot water to remove all allergens, including dust mites.
Any comforter stuffed with synthetic fiber and covered with a washable fabric (eg, cotton, lyocell, bamboo, etc.) should be machine washable.
However, if you purchase a super-fluffy comforter or duvet it may not actually fit in your machine. Keep this in mind prior to purchase.
Dry-cleaning kills dust mites, but it won't remove all allergens. And costs add up.
A better strategy—especially if you have trouble finding the "perfect" temperature—is to layer multiple thinner blankets.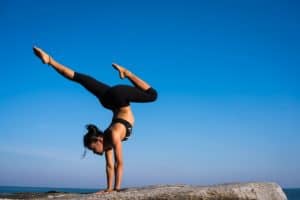 Is Cotton Still the Coolest Bedding Material?
Covers for mattresses & pillows
Review:
Bear Mattress Protector
Review:
Mediflow water pillow
Review:
Bearaby Tree Napper
Heated Blankets & Mattress pads
Wool Blankets & Comforters
Bed heating & cooling systems