**This post contains affiliate links and I will be compensated if you make a purchase after clicking on my links.
What I'm currently sleeping under
At the moment I'm alternating between the weighted blankets listed below. (Note that in high summer even these "cooling" blankets are not cool enough, and I switch to a very light quilt or blanket.)
Available in 15, 20, and 25 lbs.
The "weight" isn't from traditional glass or ceramic beads. Instead, it is the weight of the fabric. Therefore it's evenly weighted.
FREE shipping & returns. 30-day returns.
These constantly sell out. Grab yours while you can.
WONAP Bamboo Weighted Blanket review ↓
I purchased this blanket (below) because of the cooling properties of the 100% bamboo fabric. This fabric looks and feels silky and is a nice bluish-gray color ("folkstone grey").
I love the weighted feel while staying relatively cool. Despite the insulating properties of the glass beads, I stayed comfortably cool during our moderate Southern California autumn nights.
Beware that many weighted blankets are meant as "throws" and may not be large enough to cover your entire bed. Fortunately, this blanket fits to the edges of my queen-sized bed. (Unlike conventional blankets, weighted blankets are not designed to hang over the edge.)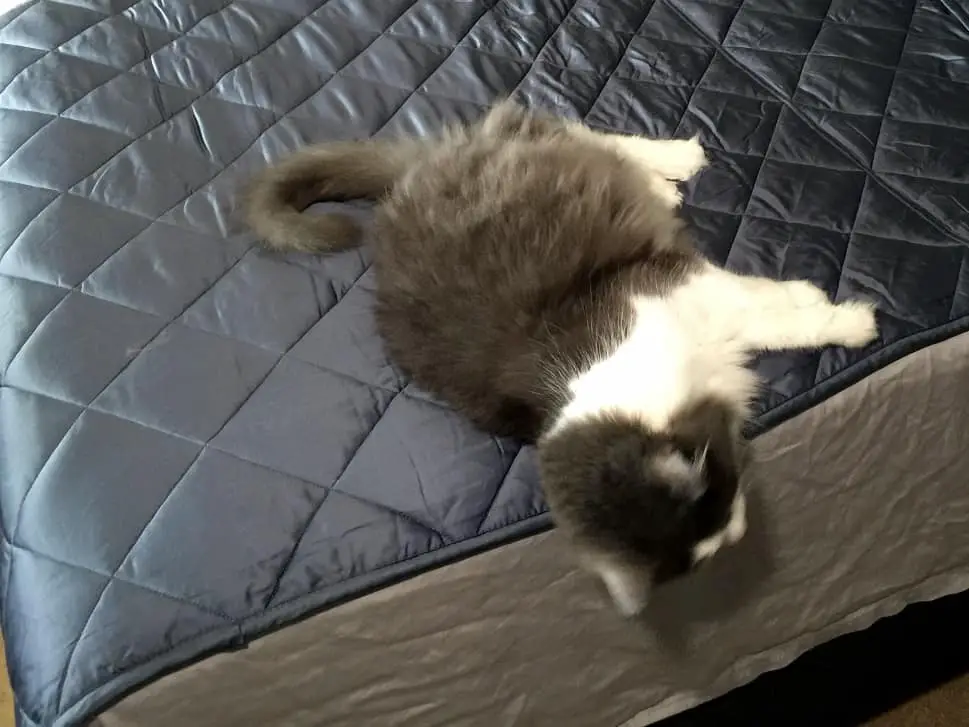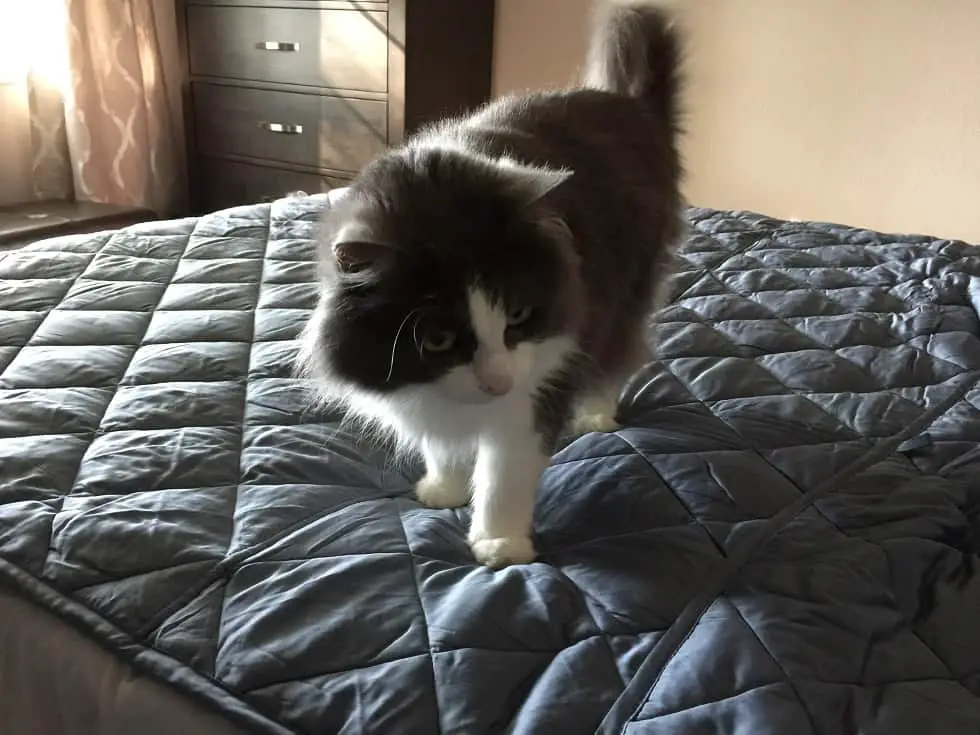 WONAP Cooling Weighted Blanket. 100% bamboo fabric with premium glass beads. Available in multiple weights: 7, 10, 12, 15, 20, 25, and 30 lbs, held in a diamond design. Noiseless.
Available in multiple size and weight combinations, to fit twin, full, queen, and king-sized beds.
And yes, this blanket is noiseless, making no more sound than a regular blanket.
Because the material is silk-like it is also susceptible to tiny thread-pulls from tiny feline claws. No leaks so far; cross fingers
It contains loops around the edge to attach a cover, sold separately by other brands. You may purchase a cover made of cooling bamboo, or similar. For colder weather, covers also come in a "minky" plush polyester fleece.
If you can't decide, reversible covers are available with minky on one side and bamboo on the other. However, this combination doesn't sound like it would keep cool.
I purchased a blanket 15 lbs in weight. Although in hindsight I would prefer a heavier blanket, I'm not sure the weight will survive my washing machine. (Stay tuned…)
In general, shop for a weighted blanket around 10% of your weight. However, personal preferences will vary.
December update
Now that I've had a chance to use this blanket for longer, I think the weight is perfect. With the winter temperature drop, I've added a thin wool blanket on top.
Moonbow All-season Weighted Blanket review ↓
I ordered the 15-lb blanket in grey. This blanket is designed for all seasons: a bamboo side for summer, a polyester side for fall/spring. Plus, a separate, removable plush duvet cover for winter. (As a hot sleeper I have no intention of ever using the latter…)
I assume the "shiny" side is the one made of bamboo, and for maximum cooling, you should sleep with that side towards you. Granted it's July, but I still found this blanket a bit too warm. For maximum cooling, it's best to use bamboo, or a similar cooling fabric, throughout.
The stitching is of high quality and the glass weights are evenly distributed. The weight feels wonderful…
This blanket is slightly narrower than my queen-sized bed. Although the duvet cover is grey, the blanket itself looks more blue-grey.
I'll definitely pull this blanket out again when the temperature drops…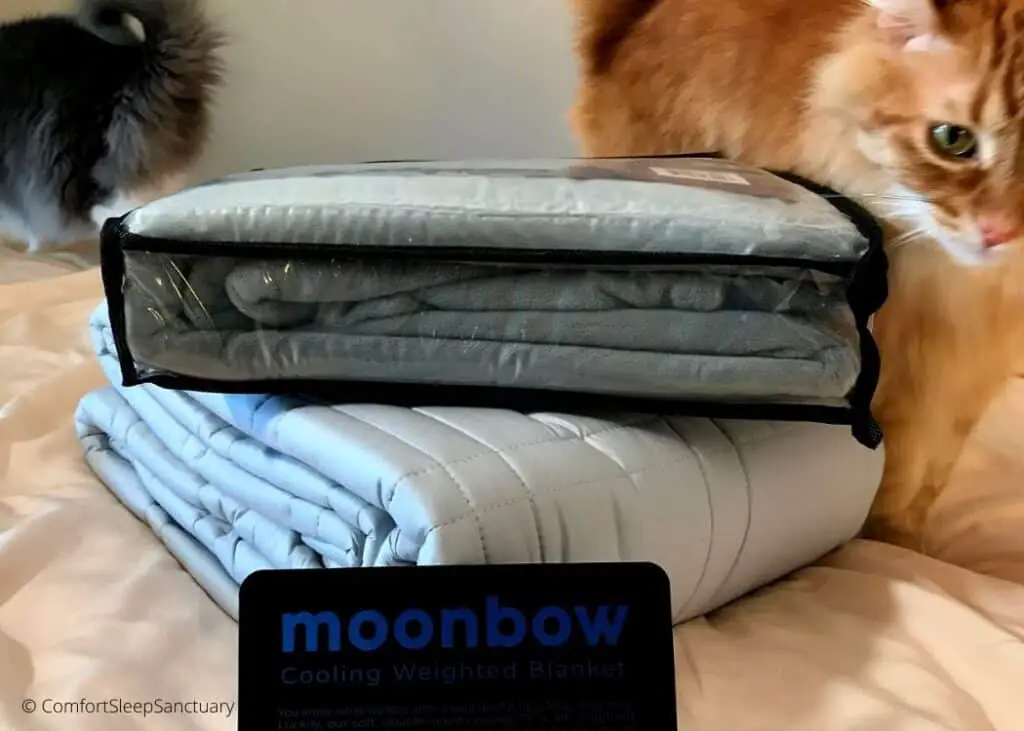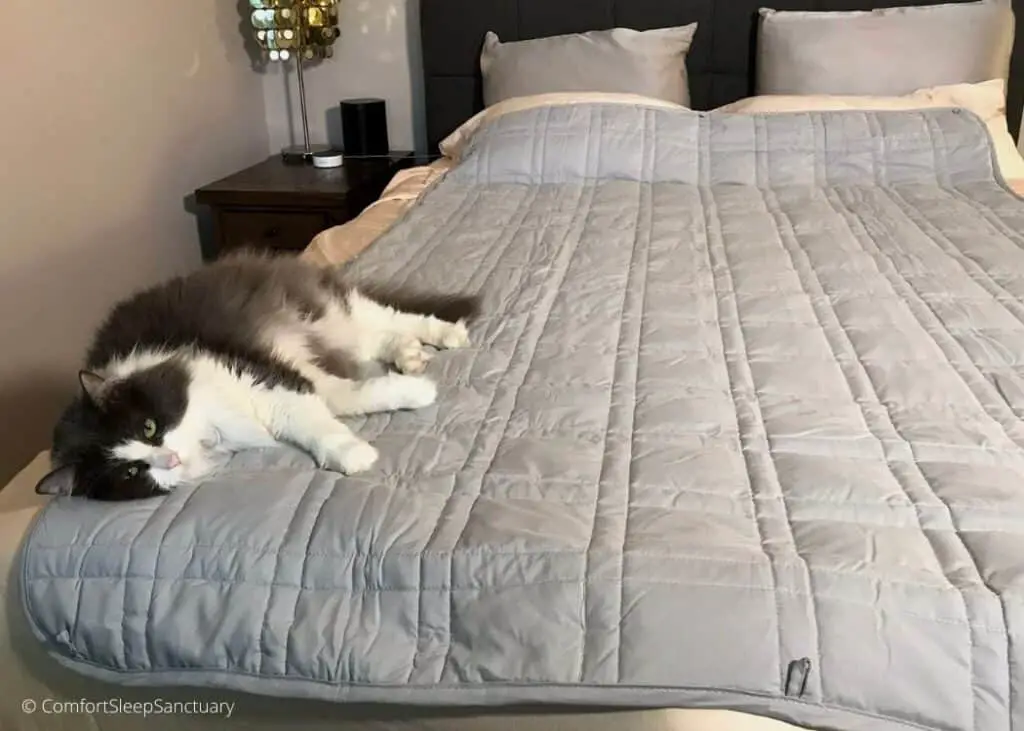 Moonbow All-Season Weighted Blanket. Double-sided with cooling bamboo on one side (summer) and polyester on the other (fall/spring). Included micro-plush duvet cover (winter) in either blue or grey.
Weighted with glass micro-beads, evenly distributed with double-stitching. Available in either 15 lbs or 20 lbs.
Note, both weighted blankets are only 72″ x 48″ (smaller than a queen-sized bed which is 60″ x 80″).
30-day return policy.
LUXOME Cooling Weighted Blanket review ↓
The LUXOME cooling weighted blanket is like the WONAP blanket above: both are covered in shiny cooling bamboo, both are filled with tiny glass beads, and both are a lovely blue-grey color.
I purchased the 18 lb ("large") blanket that is sized to cover a queen-sized mattress (60" x 80"), which is close in size to the WONAP.
However, the build quality on the LUXOME appears to be a bit better. In both, the glass beads can freely move around in each square. In addition, each square is composed of multiple layers of fabric to prevent leakage. (And durable enough for machine washing.)
Whereas the beads within the WONAP tend to pool at the bottom of a square, the beads in the LUXOME are more likely to stay in place. LUXOME uses tiny beads, less than 1 mm in size. WONAP doesn't provide the size of their beads, but they feel smaller, almost like "sand". It could be that the "larger" beads are a better size to bind to the inner fabric and stay in place.
The LUXOME blanket is also made of bamboo Lyocell, not the typical viscose (rayon) bamboo of the WONAP (and other) bamboo blankets. Whereas viscose is a "first-generation" manufacturing process, Lyocell is a "third-generation" process that recycles almost all the water and solvents in a more environmentally friendly manner.
The LUXOME is available in 8, 15, 18, and 30 lbs, and in several colors. I purchased one with an "integrated cover", but for a slightly higher cost you can purchase a blanket with a removable cover in either bamboo only, or bamboo plus Minky (polyester fleece) for colder weather.
Highly recommended. 😊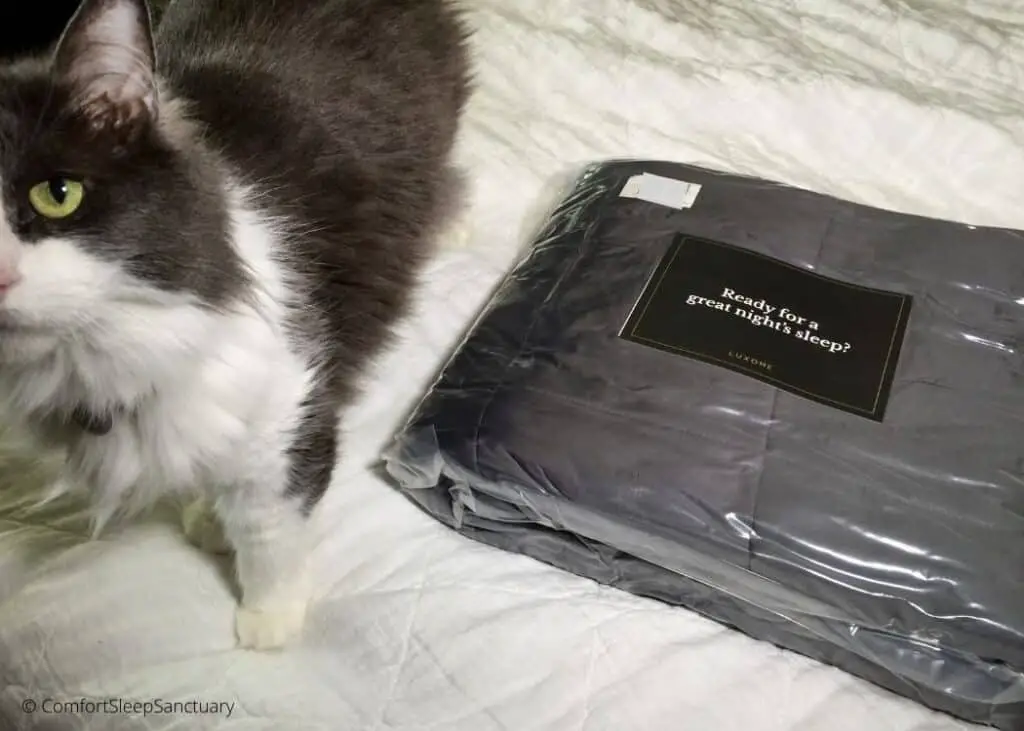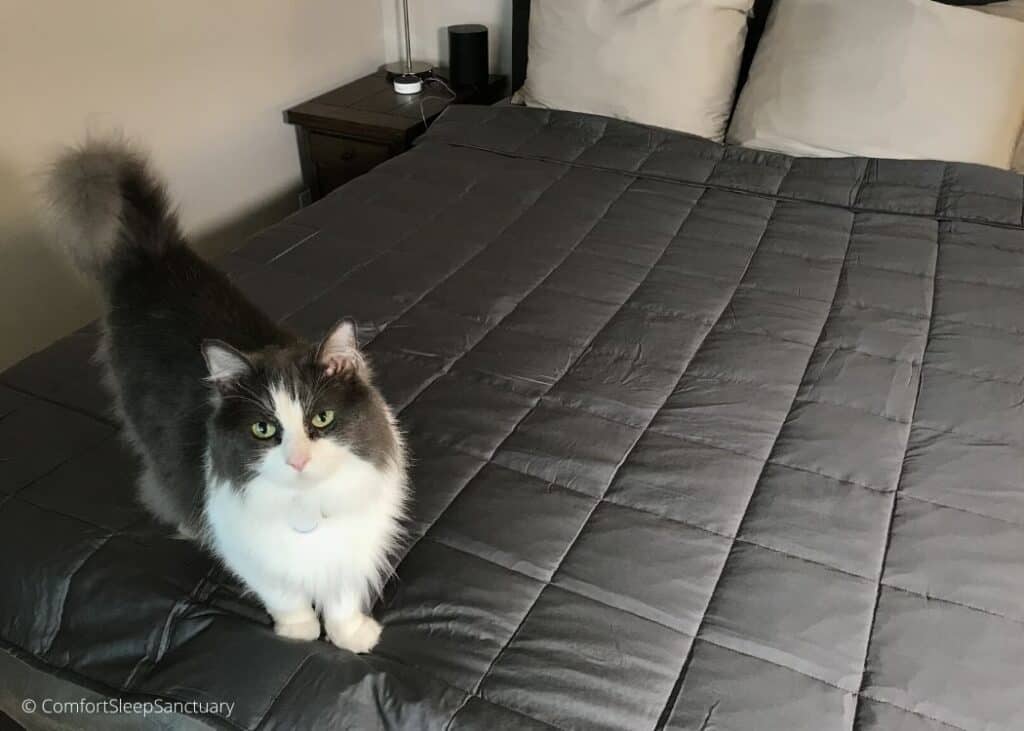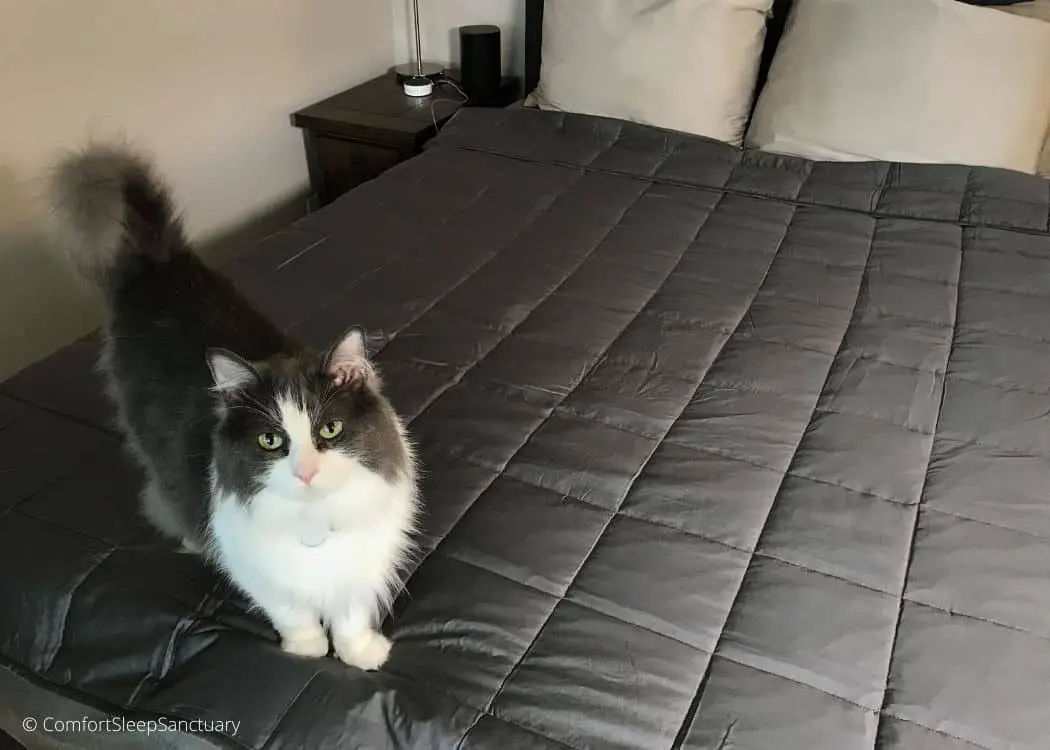 LUXOME Cooling Weighted Blanket. Either 300 thread count Lyocell bamboo (not cheaper viscose) or combination bamboo/minky fabrics for all-weather use. Filled with glass beads. Available in 8, 15, 18, and 30 lbs. Machine-washable.
30-day return policy
Update: LUXOME Cooling Weighted Blanket
After many months I'm still enjoying my weighted blanket. However, as I expected the Lyocell cover is not holding up well to cat claws.
No actual tears yet, but lots of thread pulls…
TIP: always place the same side down. The top may be a mess, but the underside looks as good as new.
Covers for mattresses & pillows
Review:
Bear Mattress Protector
Review:
Mediflow water pillow
Review:
Bearaby Tree Napper
Heated Blankets & Mattress pads
Wool Blankets & Comforters
Bed heating & cooling systems