**This page contains affiliate links and I will be compensated if you make a purchase after clicking on my links**
Weighted blankets provide "deep touch pressure" which relaxes you. The sensation has been compared to a massage or a nice hug.
The scientific evidence that they improve your sleep is still quite thin, but anything that makes you feel better should also help you sleep.
For more about picking a weighted blanket, see my recent post HERE.
In the early weighted blankets, the weight was composed of small plastic or metal pellets. In the newer blankets, the pellets are made of ceramic, glass, or "silica" which is a type of glass.
One buying recommendation is to find a blanket with multiple layers to protect the beads from leaking out.
However, if you choose to machine-wash the blanket or have furry friends with (unclipped) claws, accidents are bound to happen.
Considering you may be using your blanket to reduce anxiety, having little pellets of glass everywhere is not going to help.
Obviously, if you are handy with a needle and thread that is your best bet. But you wouldn't have clicked on this post if that were the case.
Moving on.
All the items listed below are available at your favorite craft or sewing store. And obviously, your favorite online store as well.
Garment tape
Also sometimes called hemming tape, this tape is double-sided and sticks once the paper is peeled away. Check that the garment tape is permanent and washable.
If the tape is too wide, cut it to size. Also, use scissors to round the corners a bit for better adherence.
The tape can be used as a first step to seal the leaking area.
Fabric glue
Fabric glue comes in "temporary" and "permanent" versions. The former will be gone as soon as you wash your item.
Look for a glue that is resistant to both washing and high temperatures.
It should dry clear and remain flexible.
Like garment tape, fabric glue works best when used in combination with other methods.
Use it as an alternative to garment tape to secure the initial leak.
Alternatively, if you sewed the leak shut, use the glue as an additional seal.
Fabric repair powder
This is a product called Supermend, manufactured in the UK, but available everywhere.
For this, you'll need parchment paper—that paper you use for baking. It's made of silicone and resistant to high heat. Available at any grocery store (or here).
Fabric repair powder is designed to attach two pieces of fabric, such as a hem, or repair a tear using a home-made patch. This patch can either sit behind the tear, called a backing patch, or simply cover the tear.
Your weighted blanket is constructed with pockets that hold the weights. If the top fabric of the pocket is torn, you can use the powder to adhere the top fabric to the bottom fabric.
Place the powder underneath the tear and hold it in place while blowing away the excess powder.  Then use the parchment paper and a hot iron to melt the powder and adhere the torn fabric to the fabric underneath.
If that isn't enough to hold in the leaking weights, cut some spare fabric to size, and use the powder and your hot iron to attach the patch.
Where can you find spare fabric? If you only need a sliver, look at the inside seams of your bedding, including duvet covers. You may get lucky and find some excess fabric that you can cut away without damage.
Also "retired" sheets or pillowcases may be another source of patching material.
The powder is good at repairing frayed edges and is usable on a wide variety of fabrics.
Your repaired item should be completely washable. (However, there are internet comments that suggest that it may not stand up to dry cleaning.)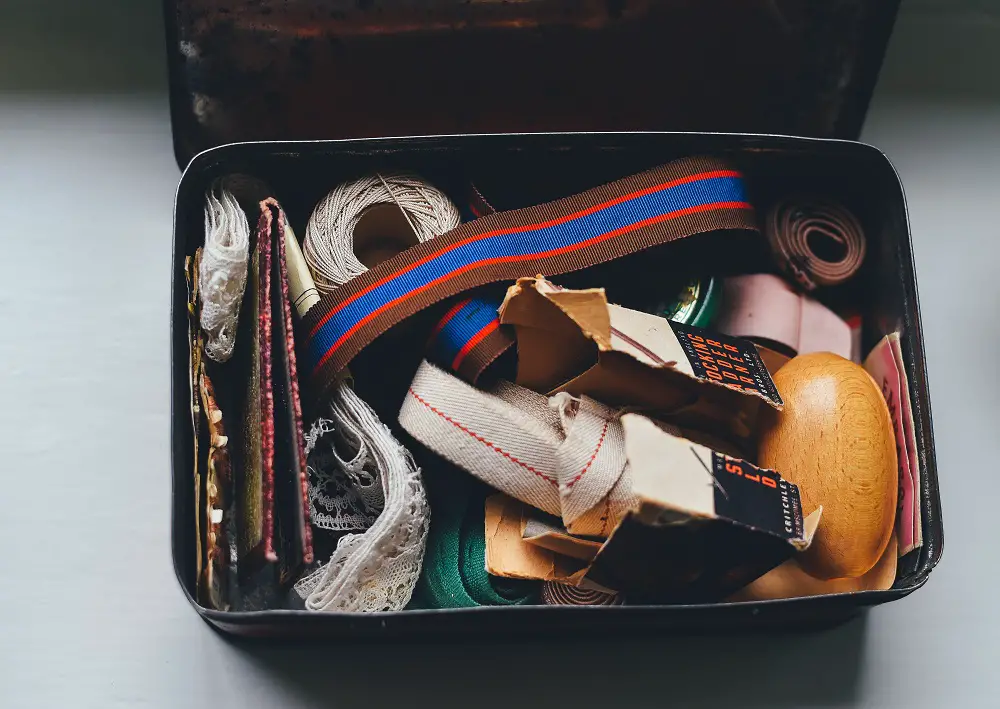 Iron-on patches
Also, look for iron-on mending fabric or mending tape. Many choices are designed to repair thicker denim fabric but look for a thinner version.
Depending on the severity of the leak, you can also first iron on thinner mending tape and follow that up with a larger patch. Cut each to size and round the corners for better adherence.
Note that iron-on mending fabric is designed for repairing flat fabric. As your weighted blanket has a slightly curvy surface, you'll need to combine the patch with the other methods mentioned above.
Once you've secured the initial leak with garment tape, fabric glue, powder, or sewing, then cover with one or more iron-on fabric patches.
Adherence is key, so use your iron to make sure the entire surface of the patch is stuck down. Dry heat only, no steam.
If you used glue first, make sure it is completely covered. You don't want to gunk up your iron. If in doubt, use parchment paper between the fabric and your iron.
You can use additional fabric glue to secure the edges.
If you don't own an iron (guilty!) you can also use fabric glue or fabric repair powder to attach the patch.
Appliques
Instead of a boring iron-on patch, use fun iron-on appliques of butterflies, stars, flowers, or paw prints.
A great option for a kids' blanket.
Add a cover
If your leak is minor, or you're not happy with the aesthetics of your patch/glue job, then slip on a cover.
Your weighted blanket is smaller than a regular blanket as it's not designed to hang over the bed. Therefore, a regular duvet cover will be too large.
Most weighted blankets either come with a cover or sell one separately.
You can also purchase a cover intended for a different weighted blanket with the same dimensions. However, keep in mind that many blankets and their covers have attachment ties that line up.
Premium blankets may even have a zippered covered, which should hold in leaking beads more effectively.
Vacuum the problem square(s)
Your blanket has vertical and horizontal stitching that creates squares, or pockets, that individually hold the beads and ensure even distribution.
If the rip is significant, then use your vacuum to empty that square. One (or two) unweighted squares shouldn't affect the overall feel of the blanket
Ripped sheets
Weighted blankets aren't the only bedding that may need repair.
Fitted sheets are probably the most susceptible to tearing as they wear more.
…Especially if you have a cat that loves to play tug-of-war when you are making the bed.
The same techniques listed above may be used for sheets and other blankets.
Keep in mind that sheets are thinner and so the patch solution needs to be thinner as well.
Because sheets are flat, iron-on solutions may work more effectively and not require the back-up of glue.
Comforters with exposed stuffing can be patched directly, or for a neater appearance, use a backing patch. Use a knitting needle or chopstick to work the patch through the open tear to position it underneath the rip and above the stuffing. Then iron.
Don't iron directly on any potentially sticky area. Instead, use parchment paper to protect your iron.
If your sheets are beyond repair, you may still wish to keep a few sets around. In addition to patches, they are also handy for wrapping other bedding for storage. Flat sheets also make great drop-clothes for protecting items from dust and paint.
Want to learn more about the products mentioned?
[If you experience issues with menus or links not working, it is most likely due to your Ad blocker.]