**This post contains affiliate links and I will be compensated if you make a purchase after clicking on my links.
Pillows come stuffed with a variety of different materials. Historically, I've gravitated towards synthetic polyester fills due to their comfort, value, and most importantly, washability.
Today, many fills are available, including healthy, natural—and washable—fills such as wool, and even silk (see below).
One popular choice for pillows is memory foam, as it can provide a good balance between firm support and comfort.
Memory foam comes either as one giant pillow-sized piece of foam or as shredded pieces used as a traditional fill.
Memory foam and temperature
Memory foam is famous for its heat issues. However, I've never noticed that my head overheats. I use the cooling pillowcases that come with my sheet sets, but that's about it.
But memory foam itself is very sensitive to temperature, softening in warm conditions, and hardening in a cooler room. If you keep your room cool—as I do—you may find the single-piece memory foam to be a touch hard. I have sometimes found my ear to become sore from the pressure. I'm not sure if this is a temperature issue or simply a property of my particular foam pillow (an early generation Tempur-Pedic®).
If you need to soften up your memory foam pillow, temporarily place it under a heating pad or place it in your dryer
Obviously, using heat to soften up your memory foam pillow will defeat the point of having a cooling pillow in the first place. You may need to reserve your memory foam pillow for another season.
Alternatively, cooling pillows are available.
Look for a cover made of bamboo or a similar cooling fabric
If you prefer the comfort of memory foam, look for the addition of gel. The gel may either be infused within the memory foam itself or in its own layer.
As with any bedding "investment", look for long risk-free trial periods, eg. 45 days or more. Pillows are very individual and what works for one person may not work for another.
Remove stuffing to adjust your comfort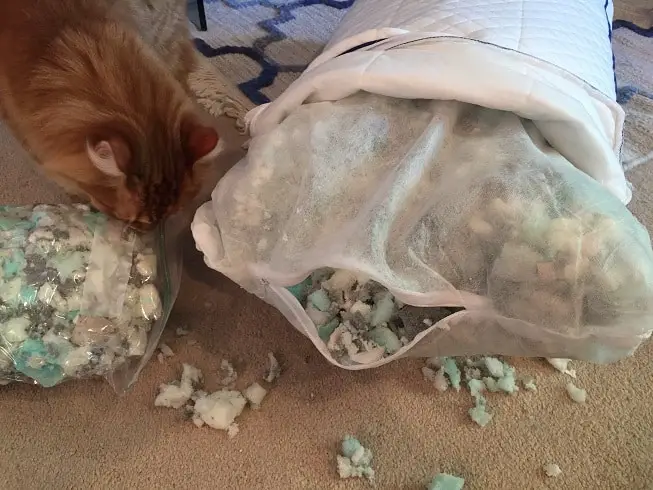 Most of us prefer to shop at a store in order to "test out" our pillow first. However, many pillows come with removable stuffing, such as shredded memory foam, and are purposely sold "overstuffed".
This type of pillow you may buy online and adjust to fit your comfort.
Most back sleepers require a flatter pillow.
However, side sleepers are a bit pickier when it comes to fill amount. Lying down, the pillow should fill the area between your shoulder and head so that your neck is aligned with your spine. Your neck should feel completely neutral, not slightly cocked to one side.
Traditionally, many of us would scrunch up a pillow to get it to the correct height. If you prefer this method, simply remove more stuffing.
Cooling memory foam pillows
Eli & Elm PCM Memory Foam Cooling Pillow. Solid memory foam with cooling gel and copper-graphite. (Copper is antimicrobial and may enhance cooling.) Cover of 100% lyocell plus PCM on the top; cotton and polyester on the bottom.
Lyocell is a cooling fabric made from wood pulp. PCM, or phase change material, is made of microscopic beads containing plant oil. A PCM works by absorbing your excess body heat, then releasing it back to you when needed. This particular plant-oil-based PCM is set to just above room temperature.
This pillow is available in either "low" (4 inches) for back sleepers or "high" (5 inches) for side sleepers.
Risk-free 45 night trial.
Bear Cooling Foam Pillow. Made of solid Loft-X foam, a hybrid of memory foam and latex. Double Ice fabric with side mesh panels for airflow. The removable, washable cover protects against allergens and dust mites.
100-night sleep trial.
Talalay latex
Latex is a natural fiber, derived from the sap of the rubber tree. "Talalay" is the name of the process of creating latex foam rubber and it is also the name of the manufacturer, Talalay Global.
According to Talalay Global, their foam breathes up to seven times better than other latex or foams, resulting in a cooler sleep.
Talalay latex has a "unique buoyant quality" to relieve tension and support comfort.
Talalay latex is also considered hypoallergenic, as it is resistant to mold, mildew, bacteria, and dust mites. (Although, some people—myself included—have latex allergies…)
Purple Harmony Pillow mini-review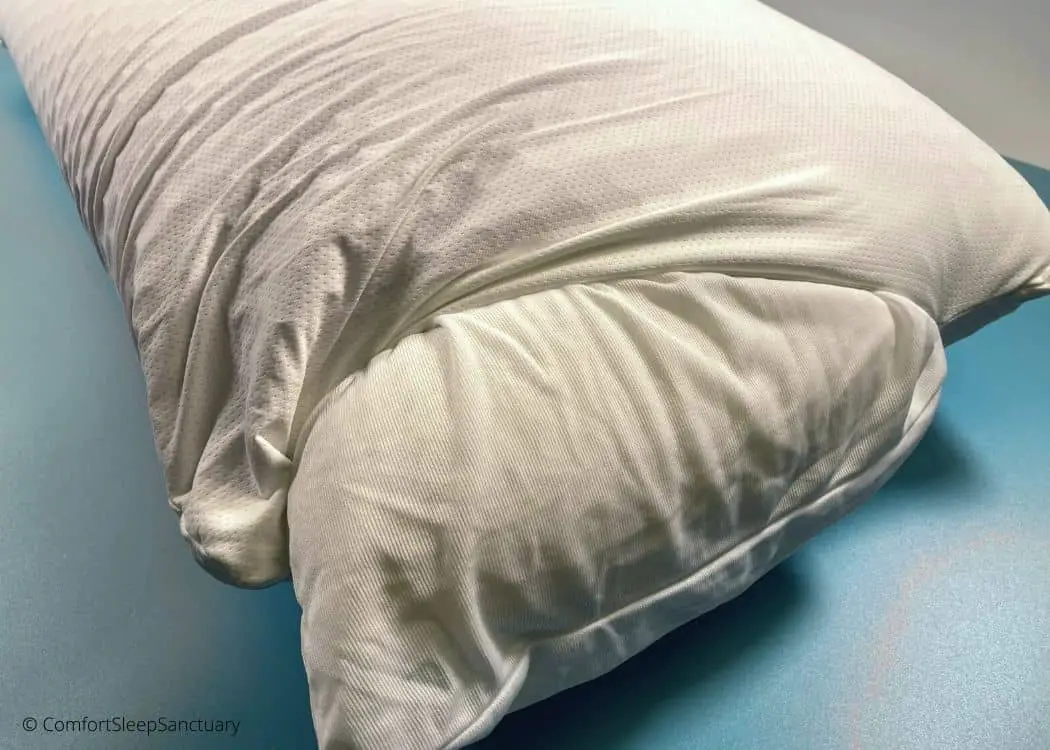 This pillow is available in two different thicknesses. As a side sleeper, I prefer tall pillows, so I purchased the thicker 7.5" version. It is probably too high for me.
Unfortunately, it is not adjustable. I'm used to it now, but if you have any neck issues, I would definitely consider a fully adjustable pillow, such as the Mediflow (full review here).
This pillow has a core of enclosed Talalay latex (see picture above), covered by Purple's proprietary breathable "hex" cover. Together, they give the pillow a "spongy" feel.
This feel is very different from your typical down and alternative down. And it's definitely different than memory foam. I like the feel, but it may take you some getting used to.
Fortunately Purple has a very generous "100-night" return policy.
The Purple Harmony Pillow. Outside surface made of 360° Purple Grid™ Hex, which provides No Pressure® Support while feeling soft and cool. 1500 open air channels combined with a moisture-wicking breathable cover (nylon and spandex) keep you cool and dry. Inside core of Talalay latex. 
Available in either standard (6.5″) or tall (7.5″) thickness.
100-night No Pressure™ Guarantee.
Other Talalay latex pillow options
Available in a high loft for side-sleepers and a low loft for stomach sleepers. (Back sleepers may choose either.)
30-day return policy.
Down alternative and other fills
In addition to memory foam, many other fills are available. Common is "down alternative", which is not down, but polyester intended to feel like the soft down of geese feathers.
Polyester fills have a lot of different names, including Quallofil® or Hollofil®.
Other fills include breathable cooling materials, such as wool.
Purple Plush Pillow mini-review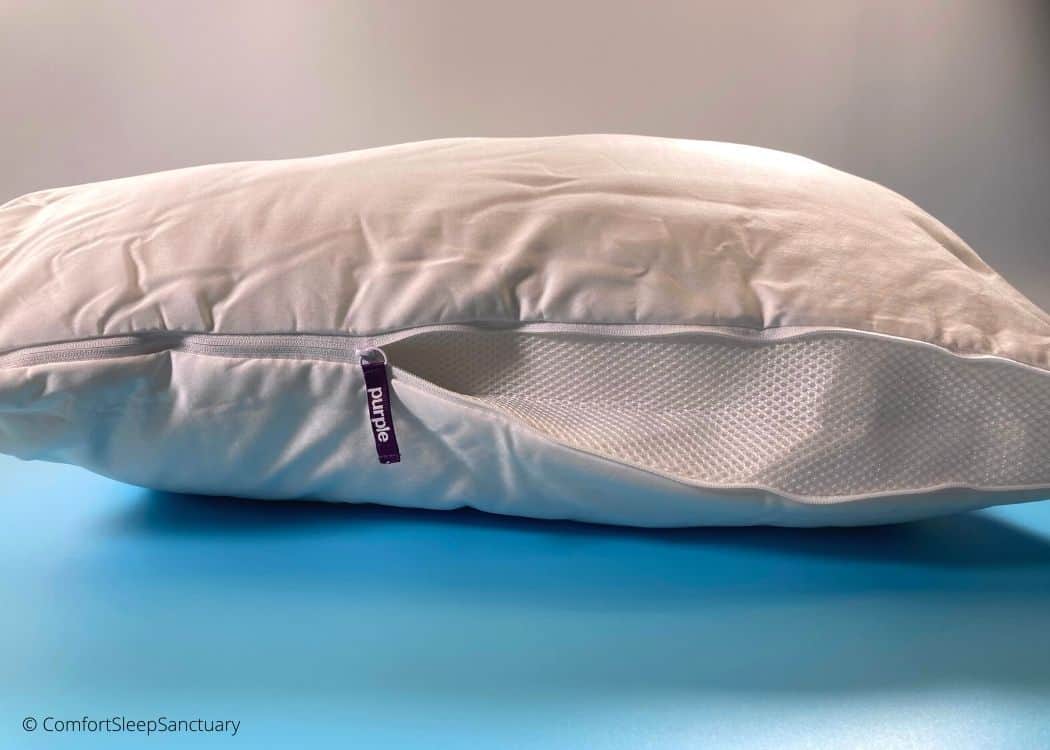 This pillow has a clever zipper on two sides. For a looser pillow, unzip one or both sides. For a firmer, higher pillow, zip up both sides.
As a side sleeper, I prefer a higher pillow, so I zipped up both sides. For me, it is still a tad flatter than I need, but down alternative is easy to "scrunch up" to get the height needed.
I'm a fan of down alternative, so this pillow feels very familiar and comfortable.
Purple Plush Pillow. Zip or unzip the sides to adjust the loft. Filled with cuddly "smart fluff" polyester fiber balls. Lyocell-blend cover (60% Lyocell, 40% nylon) to wick away moisture. Machine washable.
100-night No Pressure™ Guarantee.
Other down alternative pillows
Sleep & Beyond myWoolly Pillow®.  100% natural wool fill (British Shropshire wool), within a wool-filled quilted pillowcase of cotton sateen. Adjustable—stuffing can be removed as needed.
And yes, it's machine-washable!
Usual 30-day return policy.
(Also available directly from Sleep & Beyond, however, their 45-day return policy is only for completely "unused" items.)
Cozy Earth silk pillow mini-review
This is a comfortable pillow, that does indeed feel like a cloud. However, to be honest, it doesn't feel that much different from other pillows stuffed with high-end polyester fills (like Qualofil®). And those fills are 100% machine washable.
And significantly less expensive.
It's also understuffed for a side-sleeper, such as myself. (It was necessary to keep it scrunched up in an "undersized" pillow protector to get enough loft and firmness.)
Note that the instructions online indicate that this pillow can be machine-washed (but somehow, with no "spin"…?) Instructions that come with the pillow recommend dry clean only.
Cozy Earth Silk Pillow. 100% viscose bamboo fabric shell covering 100% mulberry silk filling; temperature regulating. Easily moldable and holds form longer. "Feels like a cloud."
100-day guarantee.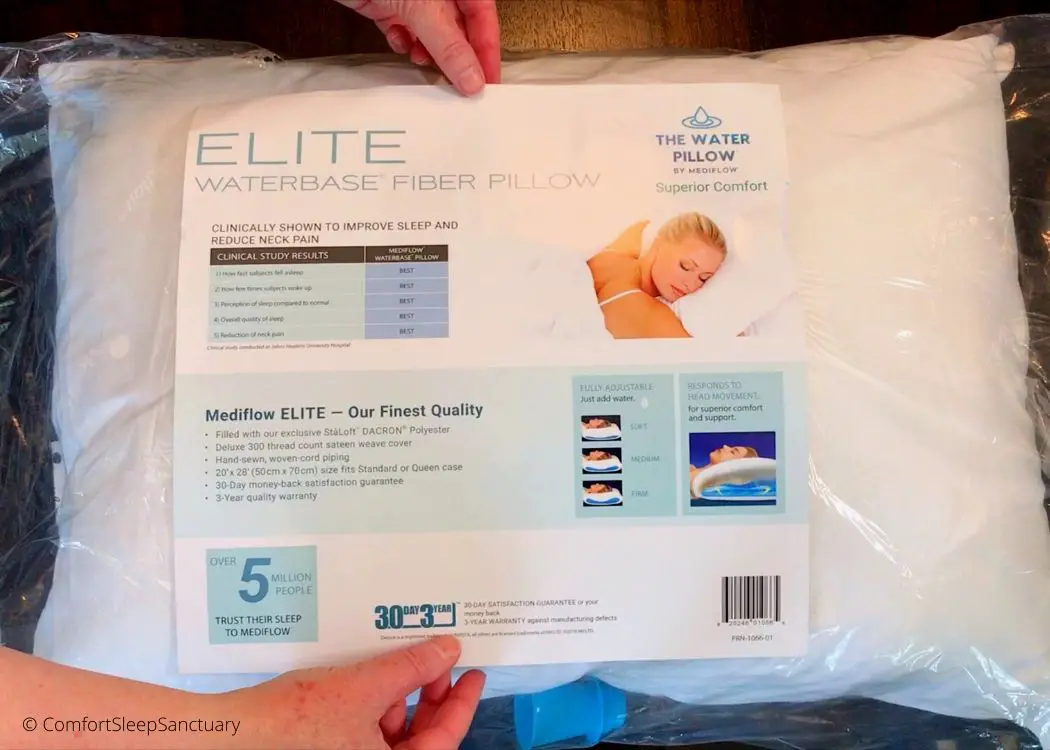 Remember the waterbeds of the '70s? The same principle works for pillows as well. These pillows are made of the usual polyester fill or memory foam but with the addition of a waterbag in the center.
You adjust the firmness of your pillow by adjusting the amount of water added. It may be a little tricky to get the exact amount. Even a single ounce may feel very different.
In a 1997 Johns Hopkins study by Lavin, et al. they improved pain and sleep quality in patients with benign cervical pain syndrome (neck pain). The study compared the water pillow to the patients' "usual pillow" and to a roll pillow designed for neck support.
As always, if you suffer from chronic head, neck, or back pain, please seek out the guidance of a medical professional.
Leaks are rare, but if they do occur, beware mold may result.
Most pillows are washable, simply remove the water first. (Which will, unfortunately, require you to readjust the firmness from scratch.)
Covers for mattresses & pillows
Review:
Bear Mattress Protector
Review:
Mediflow water pillow
Review:
Bearaby Tree Napper
Heated Blankets & Mattress pads
Wool Blankets & Comforters
Bed heating & cooling systems