**This page contains affiliate links and I will be compensated if you make a purchase after clicking on my links**
---
Do you find it difficult to find the "perfect" pillow at the correct height and firmness? Do you struggle with neck issues?
The Mediflow water pillow is a regular pillow with a reservoir on the bottom to hold water. This water cradles your head, providing additional support for your head and neck. Likewise, as you roll over and shift, the water redistributes to support you.
You control how much water to add, from 2 to 5 quarts (liters)—or more—depending on your preferred pillow height and firmness.
The Mediflow is one of the few pillows to be studied in a controlled clinical study. Back in 1997 at Johns Hopkins, 46 subjects with neck pain spent several weeks alternating between their own pillow, a roll pillow, and the original Mediflow water pillow.
After the study was complete is was found that use of the Mediflow pillow was better than the other two pillows.
Subjects had reduced morning pain intensity, increased pain relief, and improved quality of sleep.
Although exciting, keep in mind that this study did not use a "blinded" placebo control. Subjects obviously knew which pillow they were sleeping on in any given week.
The "placebo effect" is much higher than most of us realize. If you think something will make you feel better, then it will…
In other words, you'll need to decide for yourself.
As always, if you suffer from chronic head, neck, or back pain, please seek out the guidance of a medical professional.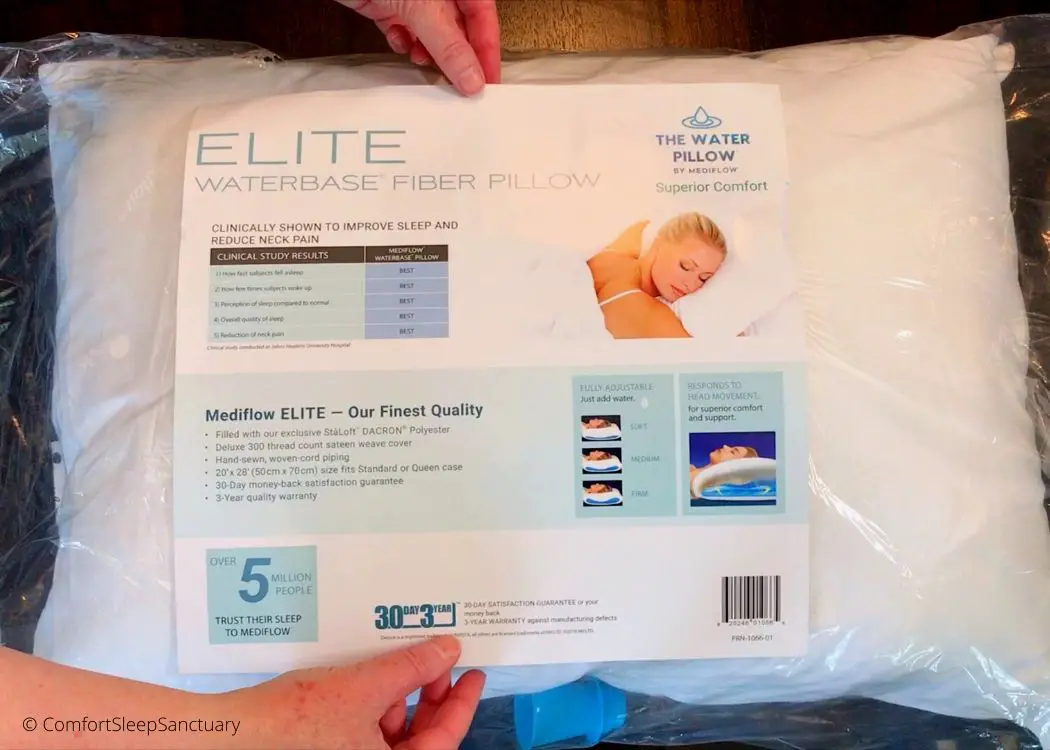 The Mediflow pillow comes in several models, starting with the original water pillow stuffed with regular polyester fill. As my current favorite pillows are filled with premium polyester fill, I purchased the "elite fiber" with StalLoft™ DACRON® polyester.
If you prefer either down or memory foam, those pillows are also available from Mediflow.
Setting up your pillow is straightforward. A small screw-in funnel is included to make filling easier. I started by filling up the pillow with a medium amount of 3 quarts.
As I'm a side sleeper I prefer a pillow on the high side. After sleeping with three quarts for a week or so, I put in an extra liter for a total of four quarts (liters). I may even try a bit more with time…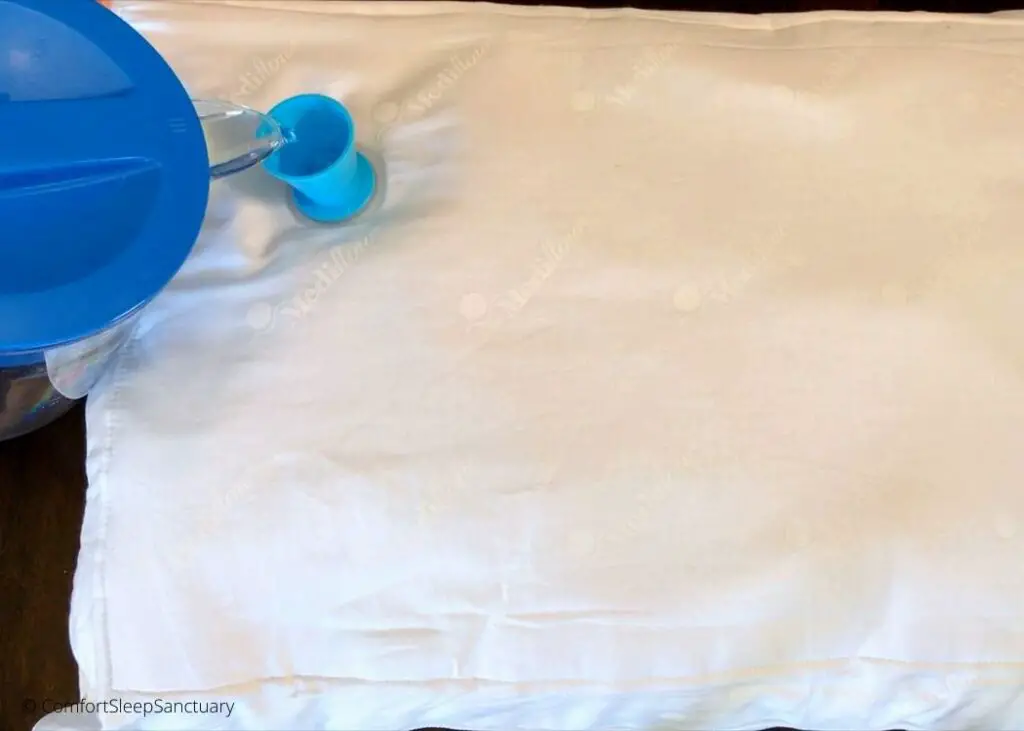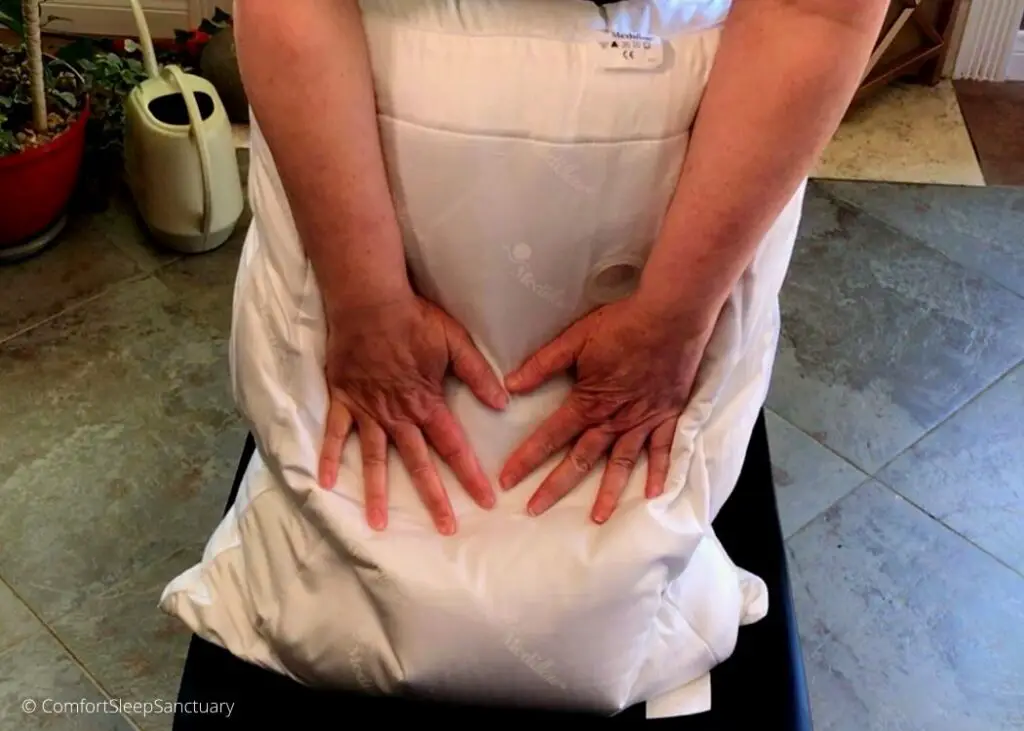 The only challenge is getting all the air out. If you leave air in, you'll hear sloshing. Per the instructions, set the filled pillow upright on a chair. Starting at the bottom, push out the air and replace the cap.
If you don't get out all the air, and still hear sloshing, repeat the process.
However, I continued to hear sloshing even if most (all?) of the air was out. Fortunately, when sleeping on the pillow, I never noticed the sloshing. Likewise, I never noticed any crinkling from the material that holds the water (vinyl would be my guess).
Fortunately, I don't have neck issues, so I can only review the comfort.
It does indeed, cradle your head and feels very comfortable.
The cap has a high-quality seal. However, if you're concerned about leakage, you may place your pillow in a waterproof pillow protector.
My only minor gripe is that the pillow itself is covered in cotton. Once wet, cotton takes a long time to dry. You are bound to spill a bit of water during the filling and air removal process. If so, you'll need to wait before placing your pillow in any protector and/or pillowcase. You don't want to risk the growth of mold/mildew.
I would have preferred to have a pillow covered in either bamboo or lyocell.
Caring for your pillow is straightforward. Obviously, empty the water first (and perhaps write down how much water you added originally.) The elite-fill may be machine-washed on delicate in cold water and tumbled-dried on low heat.
(Another tiny gripe: it would've been nice for them to have a tag with the recommended fill levels attached to the pillow itself. Odds are, most of us will lose the instructions…)
Change the water at least once per year. (Although ideally, you should be washing ANY pillow at least twice per year…)
As the pillow contains water, I originally thought it might have cooling properties. But the water is at the bottom of the pillow. It doesn't feel any cooler (or warmer) than any other pillow with comparable fill material.
In short, I highly recommend this pillow.
---
VIDEO REVIEW: Water Pillow by Mediflow, Elite Fiber
---
>> To learn more, check out Buyer's Guide: Cooling Pillows
[If you experience issues with menus or links not working, it is most likely due to your Ad blocker.]