**This post contains affiliate links and I will be compensated if you make a purchase after clicking on my links.
Mattress pads are different from protective mattress covers, which go on first and are designed to protect the mattress directly. The latter envelops the entire mattress—like a giant mattress condom. Because they're a pain to get on, you usually leave them there.
Mattress pads also protect the mattress and usually have a quilted top for extra comfort. They only protect the top of the mattress, so are easy to remove and wash regularly.
A mattress pad with minimal quilting may be marketed as a mattress protector even though it covers only the top and sides of the mattress ("five-sided"). Its primary purpose is protection.
On the other end of the spectrum, "mattress toppers" have thick quilting and sometimes one to three inches of memory foam. Their primary purpose is comfort.
I use both a mattress protector and a mattress pad.
(Sometimes I use all three: a mattress protector to protect the mattress, a mattress topper for extra comfort, and a mattress pad that's regularly washed and protects the mattress + topper.)
Keep in mind that if you are hunting for a cooling mattress pad, it probably won't do much good if your mattress retains too much heat.
For more information on cooling fabrics, see my post HERE.
Your mattress pad may be "water-resistant" or "100% waterproof". If so, make sure it uses polyurethane (PU), a breathable layer.
The older vinyl pads crinkled when you moved and didn't breathe. Indeed, you were most likely to wake up in a pool of sweat. Look for "vinyl-free" on the label.
Most premium mattress pads are made of cotton with polyester quilted filling. Instead of cotton, they may also use cooler fabric such as bamboo.
What I'm currently sleeping on
Spoiler alert, I rated it five-stars!
The HeiQ Smart Temp remains cool to the touch, even when you're cuddled up in bed. If you become too toasty, simply adjust your position and lie on a cool area.
Bear Protector. Breathable, waterproof (polyurethane). Protection from dust mites, bacteria, and allergens. HeiQ Adaptive technology to keep you cool and dry.
HeiQ Adaptive (now called HEIQ Smart Temp) adjusts to your temperature. When you're hot it efficiently wicks away moisture. However, when you cool off the wicking shuts off to keep you cozy.
100-night trial. 25% discount for military and first responders.
Other highly-rated mattress pads:
Cooling mattress pads with Phase Change Material (PCM)
The mattress pads below use embedded plant oil/paraffin for their PCM. When you're hot the paraffin absorbs your heat and melts to oil (liquid phase). When you cool off the oil releases the heat and returns to being paraffin (solid phase).
Eli & Elm Cooling PCM Mattress Protector. This non-encasement (five-sided) mattress protector is made of 60% polyurethane (waterproof). Plus 40% lyocell with embedded microscopic beads of PCM. Dust-mite resistant.
Some users note that it feels very slippery and caution using it with "slippery" sheets such as silk.
45-night sleep trial
Layla Cooling Mattress Protector. Top is 42% Olefin PCM and 58% polyester. Thermoplastic polyurethane backing (waterproof). Dust-mite resistant. Stretchy 100% polyester sides will fit a 14″ mattress.
(Olefin is a synthetic fiber with moisture-wicking properties, which can keep you cool and dry.)
30-day trial
Cooling mattress pads that enhance evaporative cooling
The classic way to stay cool is to use fibers that wick moisture away from your skin. This wicking takes your body heat with it.
In addition, staying dry discourages the growth of dust mites and other "bugs" like bacteria or fungi.
Natural fibers such as Lyocell or bamboo (from wood pulp), linen (from flax), and wool are great at this. (Note: cotton or regular polyester is NOT.)
Other fibers, such as specially designed high-performance polyester, work well for both athletes and bedding.
The Bear mattress protector, above, falls into this category
Sleep & Beyond myProtector®. Cotton quilting, filled with 100% washable wool for better heating and cooling. Waterproof (polyurethane).
Important: 45-day return policy from the Sleep & Beyond website, but only for "unused" bedding. Alternatively, check the price at Amazon, which will have the standard 30-day return policy.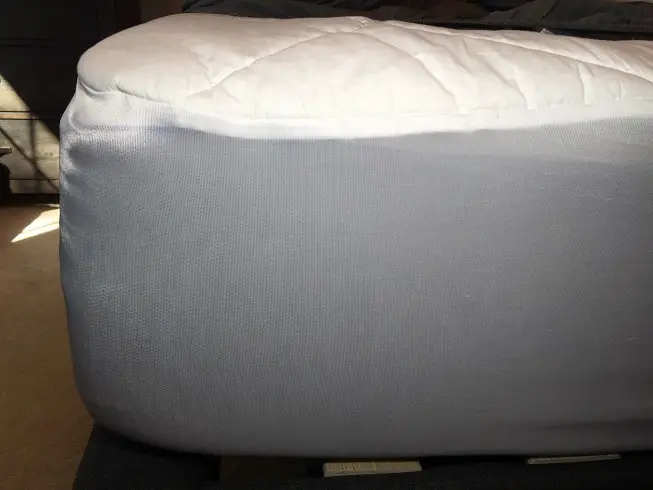 One thing to be wary of however, the stretchy fabric that makes up the sides can potentially be caught and ripped apart in a front-loading washing machine.
(I suffered this tragedy with a different mattress pad, back in the day.) When placing the pad in your washer, make sure that you face the stretchy fabric towards the back of the machine, away from anywhere that can catch.
Mattress pads with attached cooling and heating systems
For serious temperature issues (and if the price is not an issue) consider a pad with a cooling system.
>> For a more in-depth overview of water-based cooling mattress pads and other climate systems, see Bed Climate systems.
chiliPAD Cube 3.0 Cooling and Heating Mattress Pad. You adjust the temperature of the water that is circulated through silicone micro-tubes throughout the pad. Queen and larger pads have two individual zones for two sleepers. More cost-effective than air-conditioning.
OOLER Sleep System. The upgraded version of the chiliPAD has a phone app that allows you to program different temperatures throughout the night
Note, it does make a small amount of noise that most users report as "white noise", but it is annoying to some.
Not a mattress pad, but the competitor to the chiliPad above. The BedJet blows warm or cool air under your covers.
Fast shipping with Amazon, but only a 30-day return policy. Order direct from BedJet to receive the 60-day "no sweat guarantee". No shipping costs on orders over $50.
You may separately purchase the optional "Cloud Sheet" which replaces your top sheet. Otherwise, include your usual bedding.
Again, it makes a bit of noise on high fan speeds. Also, it can't replace air conditioning; the room must be below 79º F for optimal cooling.
I have recently purchased my own BedJet 3.0. Read my full review HERE.
(Disclaimer: I purchased the BedJet with my own funds, but I'm now an affiliate.)
Covers for mattresses & pillows
Review:
Bear Mattress Protector
Review:
Mediflow water pillow
Review:
Bearaby Tree Napper
Heated Blankets & Mattress pads
Wool Blankets & Comforters
Bed heating & cooling systems