**This page contains affiliate links and I will be compensated if you make a purchase after clicking on my links**
It's rare, but sometimes you switch out a single product and actually notice a difference.
Most of us, myself included, don't give much thought to our mattress pad. We tend to focus our attention on the visible, touchable things like sheets and comforters.
We quickly pick something up from our favorite online or big box store—something that provides protection and a bit of padding—and call it done.
For most, that's fine. However, if you're like me, and sleep hot, all components of the sleep system need to be evaluated. One "weak link" will disrupt the whole thing.
I have spent months switching out my sheets and comforters for cooling, moisture-wicking fabrics, such as Lyocell, silk, and even wool. I even added a BedJet to envelop me in cool (or hot) air.
For reference, I was sleeping on a "cooling" mattress pad. One made of cotton but containing Phase Change Material (PCM). PCMs, work by absorbing your heat and changing from a solid (usually wax) to a liquid (usually oil). As you cool down, the PCM will return the heat to you and change back into a solid. In theory, this should keep you balanced.
But is it enough to counteract the problems with cotton? If you have issues with sleeping hot, avoid cotton bedding. Yes, cotton "breathes", but it also keeps moisture close to your skin, inhibiting evaporative cooling.
Although, not as bad as sleeping with standard unbreathable polyester, for example, cotton is not the best fabric. Instead, consider, high-performance polyester (designed to wick moisture), Lyocell, bamboo, linen, silk, or wool. All these fabrics are great at moisture-wicking.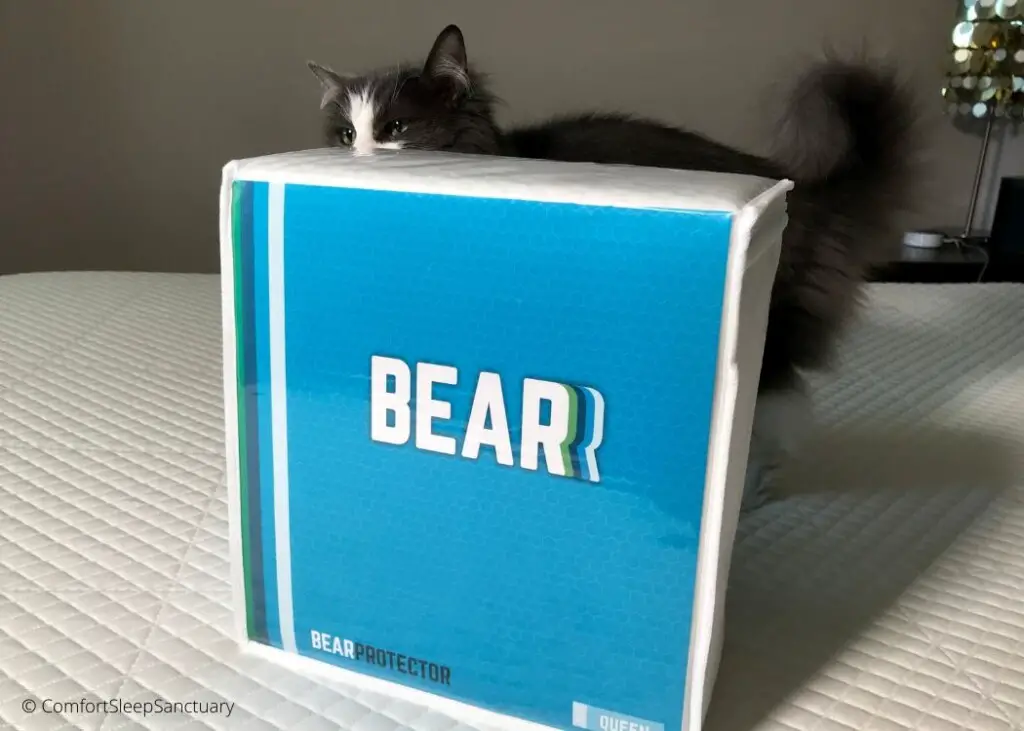 Which brings us to the Bear mattress protector. Although originally designed to go with the Bear mattress, this is not a requirement. (In fact, I'm sleeping on a Nectar mattress.)
First, it has a layer of waterproof polyurethane that protects against spills. (Or pets/humans with continence issues…)
Unlike old-fashioned waterproofing made of vinyl, polyurethane is breathable and doesn't crinkle. You shouldn't feel it at all.
Like most protectors, this one also resists dust mites, bacteria, and allergens. Note, this is not an encasement; it only covers five sides for easy removal on laundry day.
But the key to this mattress pad is the HeiQ cooling technology. HeiQ Adaptive (now called HEIQ Smart Temp) was developed by the Swiss company, HEIQ. This magical fabric adjusts to your temperature; when you're hot it increases evaporation, which helps cool you down; when you're cool, the wicking shuts off to keep you cozy.
Here is a cute video from HEIQ:
On paper, this sounds like the PCM above, but the result, in this case, is very different.
Immediately you'll notice that the mattress pad is cool to the touch. This coolness is maintained even when you're cozy in bed.
If I feel a little warm, I simply change my position so that I'm now lying on a cool spot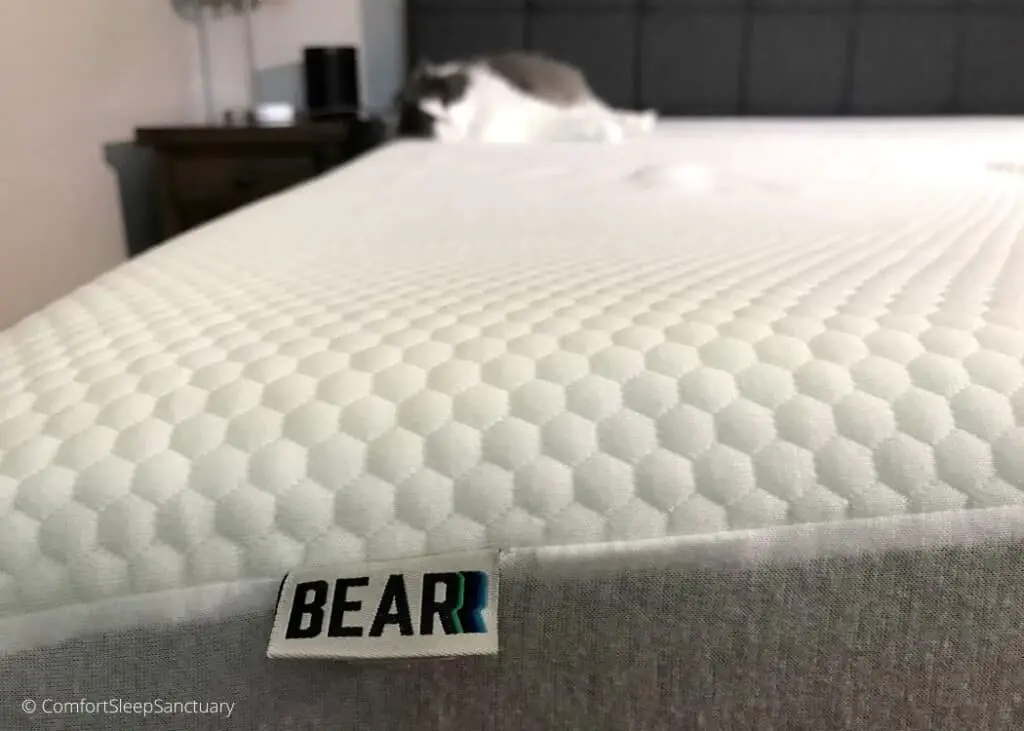 It has made so much of a difference that I haven't had to run my BedJet since switching to this mattress pad. (Before I was running my BedJet every night.)
No, I don't plan to ditch my beloved BedJet. (See my full review HERE.) I'm writing this in the month of May—really hot, and really cold weather is still ahead of us.
Stay tuned, and see how the Bear Mattress Protector holds up in hot weather…
In the meantime, five stars! (Serafina agrees.)
P.S. Bear offers a generous 25% discount for military and first responders. And a 100-night trial for everyone.
This is not a sponsored post. I paid for this item with my own funds. However, I am an affiliate: if you make a purchase using the links above I may earn a small commission.
---
Related Posts
---
[If you experience issues with menus or links not working, it is most likely due to your Ad blocker.]