**This page contains affiliate links and I will be compensated if you make a purchase after clicking on my links**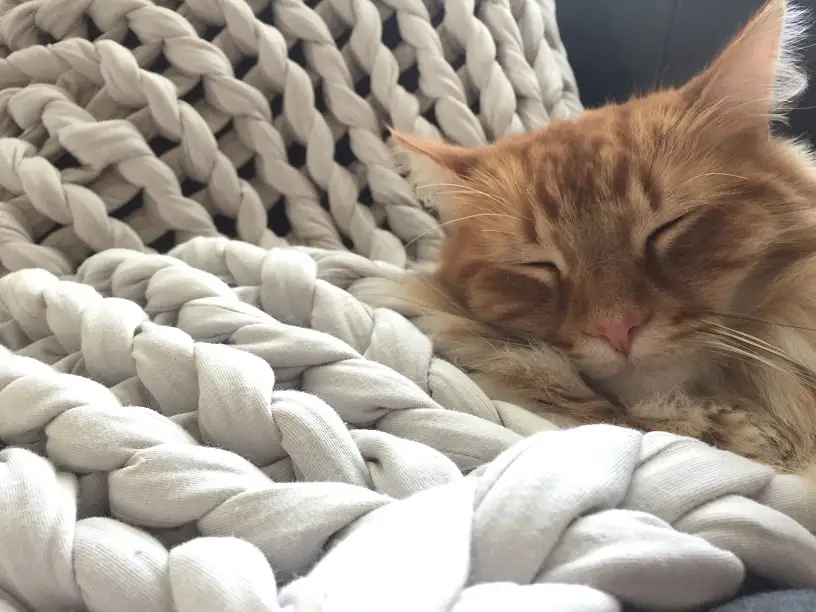 The Bearaby weighted blanket is very different from other blankets. It is hand-knit from a very long tube of jersey-knit fabric. This tube appears to be stuffed with more fabric. There are no traditional weights, such as beads made of glass or plastic. Instead, the weight is from the weight of the fabric itself.
The Tree Napper is made of 50% cotton and 50% Tencel™.
The latter is a cooling fabric, made from tree pulp (hence the name "tree" napper).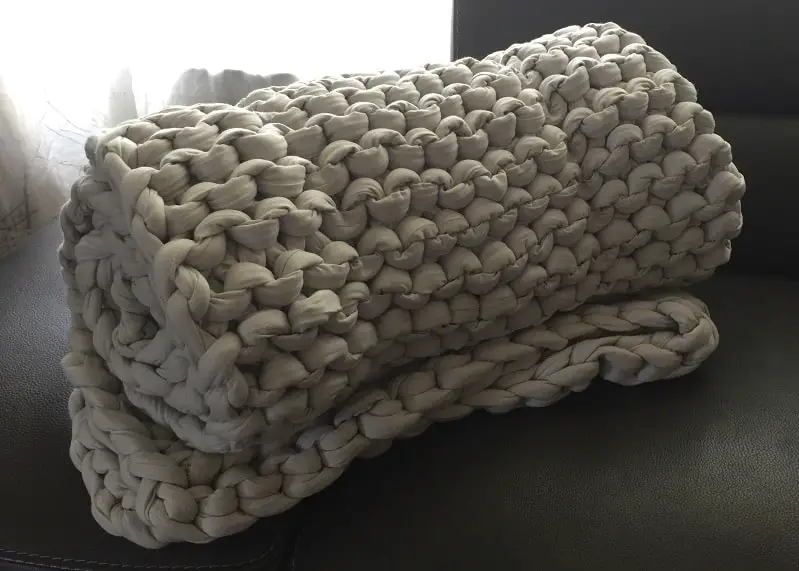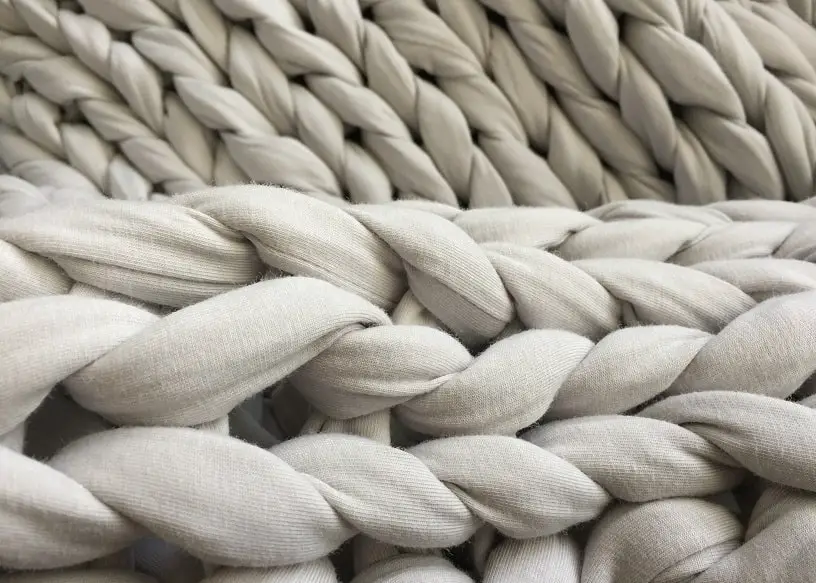 Tencel™ is the brand name of the fabric Lyocell made by the Austrian company, Lenzing. This company has received multiple certifications for its sustainability. In addition, the Lyocell manufacturing process involves a "closed-loop" that recaptures and recycles used solvents.
Bearaby also sells the "Velvet Napper" of velvet material (70% cotton, 30% polyester), and the "Classic Napper" made of 100% cotton.
Nappers come in three weights, 15 lb, 20 lb, and 25 lb. Each is slightly larger in size.
I went all out and purchased the 25 lb blanket, which is 48" x 72". This size is very generous for a throw but comes out a tad small if covering a queen-sized mattress.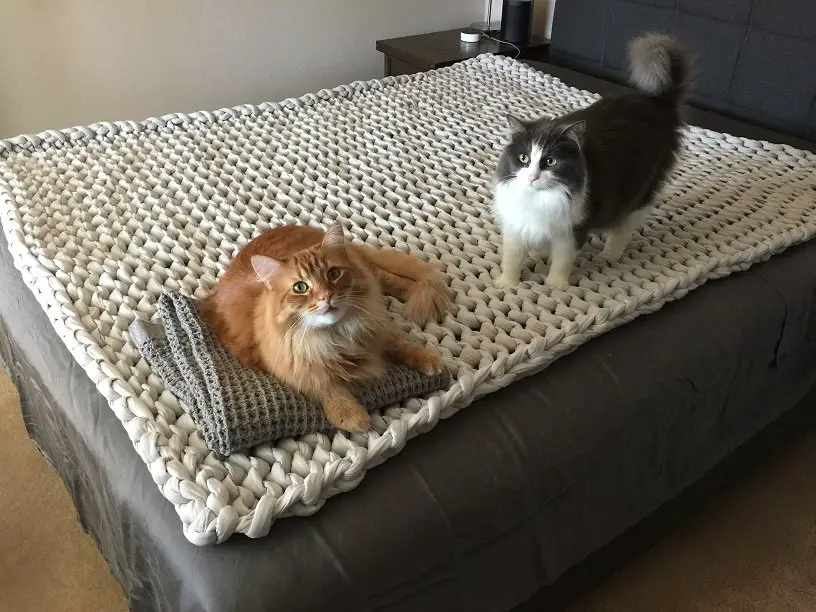 I've found I like heavy weighted blankets; I'm used to 10-20 lbs of concentrated cat sitting on top of me.
Indeed, having weight on top of you—either from a pet or blanket—has been compared to "deep touch pressure" like a massage. Weighted blankets have been found to reduce anxiety and may help your sleep.
I first used the Napper on its own as a throw. I like to watch TV while curled up in a cozy blanket.
The weight felt glorious.
However, between the cooling fabric and open weave, I became a bit chilled. Alone, I don't think this "blanket" insulates like a typical blanket. It's there for its glorious weight.
I next used it on my bed over a top sheet also made of cooling Tencel. Simply adding that thin layer closed off the open weave and made it nice and toasty. (Sometimes a bit too toasty…)
(My hypothesis is that closing off the open weave creates insulating air pockets.)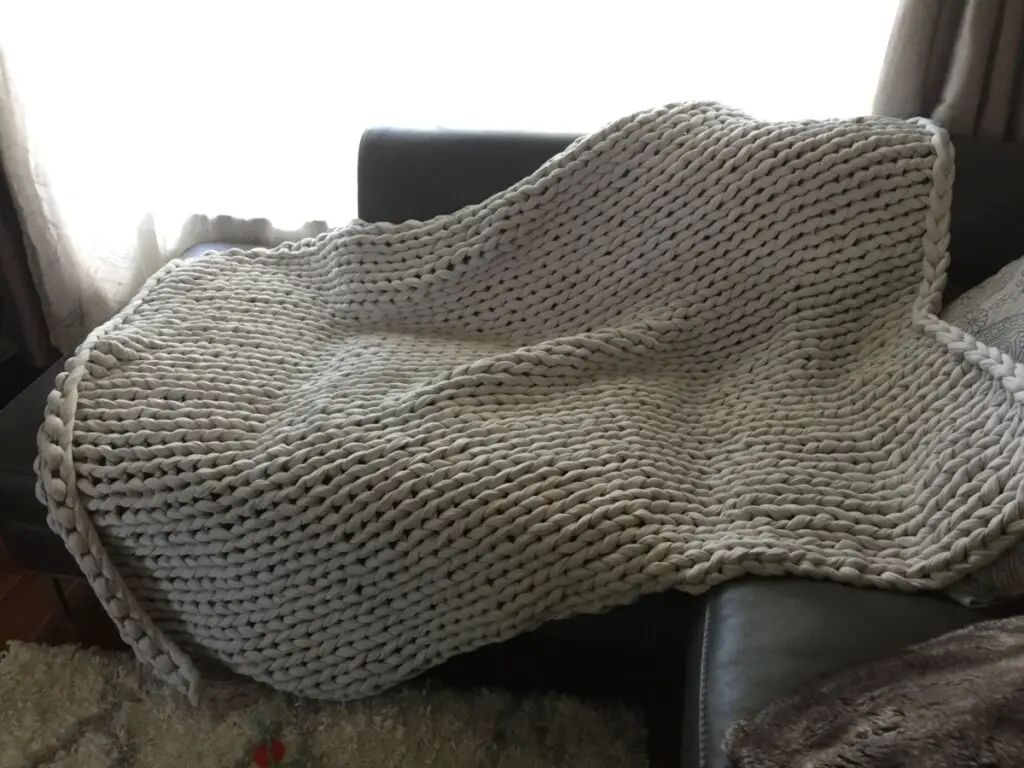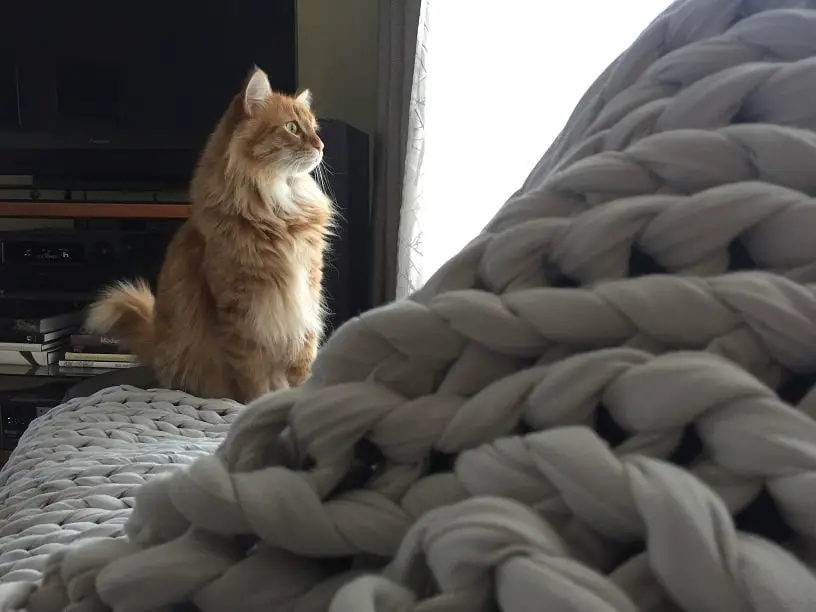 I did discover a limitation of using a greater-than-recommended weight. It's fine for back or stomach sleeping when the weight can be evenly distributed over your entire body area.
However, when side sleeping you experience more weight concentrated on your hips.
For the first few nights, I found this extra weight bothersome. However, I quickly adapted and now enjoy the heavier weight.
I'm looking forward to using this blanket during the hot months (minus top sheet) and see how it performs.
The Napper can be machine-washed on warm and dried on low. (I have no idea if a 25-lb blanket will break my washing machine. Stay tuned…)
UPDATE: More Tree Napper goodness
I like the napper so much, that instead of using my hard-earned cash to purchase different bedding to review (as I should) I purchased a second Napper!
This one is the smaller, 20-pound version. It's narrower and doesn't quite cover a queen-sized bed.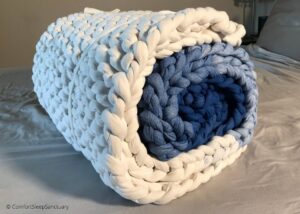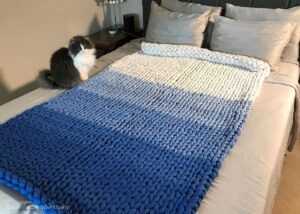 The 20-pound version "feels" almost as weighty as the 25-pound version. With the application of a little math, it can be determined that the "density" or weight per square foot (or square meter, if you prefer) does indeed vary between the three Nappers. But some of the weight difference is due to the narrower width.
Assuming you fit completely under the blanket, the weights may feel similar.
If you sleep with a partner, you may wish to purchase two 15- or 20-pound blankets—one for each of you—and line them up side-by-side.
Here are the sizes for reference
15 lbs — 40″ x 72″
20 lbs — 45″ x 72″
25 lbs — 48″ x 72″
---
This is not a sponsored post; I paid for this item with my own money. However, I am an affiliate: if you use the links above and purchase an item, I may earn a small commission.
---
Related Posts
---
[If you experience issues with menus or links not working, it is most likely due to your Ad blocker.]