**This page contains affiliate links and I will be compensated if you make a purchase after clicking on my links**
---
Is IKEA bedding any good?
This question was posed to me a while back. Being the bedding snob that I am, I immediately dismissed the question.
Don't get me wrong, I love IKEA. They were the go-to furniture source for the impoverished grad student. Or anyone who needs to fill a room with easily assembled shelving.
My first end table from IKEA still sits in my living room, right next to my custom high-end couch.
But for bedding, I envisioned IKEA with a lot of low thread count cotton… As readers know, I HATE COTTON.
And yes, IKEA has a lot of cotton bedding. But there are a few treasures for those willing to do some online digging.
IKEA bedding includes fabrics and fills usually associated with high-end bedding, including down stuffing, linen, and Lyocell.
Note the exact products listed below may or may not still be available, but similar items should be. IKEA has a generous 365-day return policy, but as of this writing, due to current events, has temporarily suspended returns.
IKEA down comforters
Yes, IKEA has down. These comforters are covered in 100% cotton and filled with duck feathers and down. All come in white. You can sleep with them as-is or place them in one of the many available colorful duvet covers—see below.
Warning. The ratio of "feathers" to "down" can vary. Down is the good stuff, the soft cottony feathers found underneath the tough outer feathers.
However, the outer tough "feathers" are not as insulating. Worse, the quills poke and work their way out of your comforter or pillow.
As expected, down is more expensive than feathers. Always check the ratio, especially if the price seems too good to be true…
Note that goose down is considered superior to duck down. Goose clusters are generally larger and have higher fill power, which will keep you warmer. Duck feathers may also have an odor, depending on the diet of the ducks in question.
IKEA down comforters come in different weights, including "extra warm", "warmer", "warm", and "light warm", although it's unclear if these designations are consistent. Some "extra warm" comforters are thick and resemble mattress toppers, while others resemble thin comforters. Likewise, prices are all over the place.
FJÄLLHAVRE. Comforter, extra warm, 100% cotton fabric with a fill of 90% duck down, and 10% duck feathers. "Machine wash very hot". Total weight 128 oz (queen).
For less money, you can get "extra warm" with only 75% duck down, 25% feathers with the SÖTVEDEL. It's important to read the fine print under "Environment & materials".
To help compare, also note the actual weight in ounces, listed under "product size". Keep in mind that feathers will be heavier than down, but with less insulating power.
On the other end of the cozy spectrum are the "light warm" comforters:
FJÄLLBRÄCKA. Comforter, light warm, 100% cotton fabric with a fill of 75% duck down, and 25% duck feathers. "Machine wash very hot". Total weight 69 oz (queen).
Unfortunately, a drop in warmth has led to an increased percentage of feathers. It would be preferable to keep the down and simply drop the total amount of fill.
Also, be careful not to mistakenly purchase the "light warm" FJÄLLARNIKA with a very similar-sounding name. This comforter has 90% duck feathers. Yes, feathers, not down.
Considering the different weights, descriptions ("warmer"), down percentages, and price, you may need to create your own spreadsheet to decide…
As for me, even "light warm" down is too hot… Sorry, there will be no review of IKEA down comforters.
For all their bedding, IKEA recommends to "machine wash very hot." They remind us that a temperature above 140 ºF (60 ºC) is required to kill dust mites, plus all allergens tagging along for the ride. This includes items you might forget, such as pillows.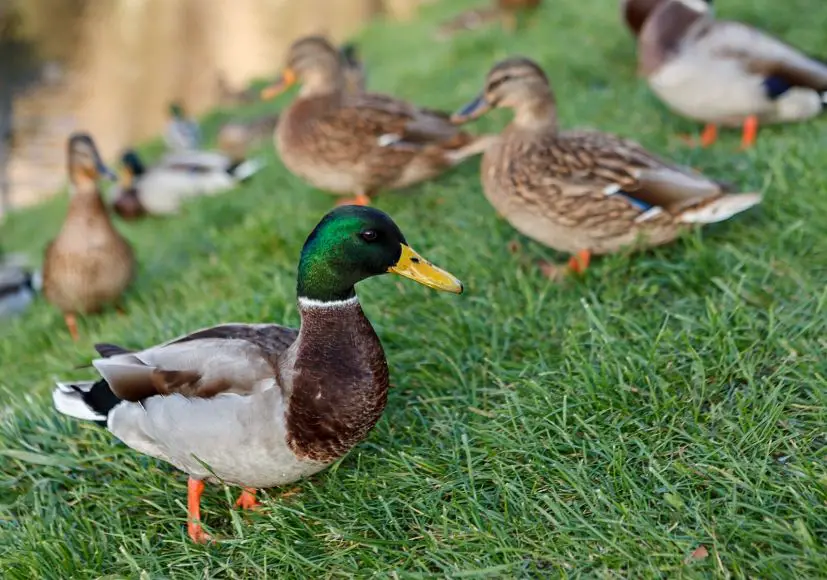 IKEA down pillows
Pick a pillow to go with your down comforter. Pillows are described as "high", "low", "firmer" or "softer". Side sleepers will prefer "high" and back sleepers "low".
BERGVEN. Pillow, high. 100% cotton cover with 75%-90% duck down. "Machine wash very hot."
At the top of the pack, this pillow is composed of a pillow within a pillow. The firmer inside core is 75% duck down (25% duck feathers) and the outside softer surrounding fill is 90% duck down (10% duck feathers).
One caution, there is no mention of a zipper. When purchasing pillows online its usually best to go for a lofty pillow and remove fill until its right for you.
If it's not right for you, IKEA has a 325-day return policy (under normal circumstances).
Moving down the list, there is considerable variation in price—and percentage of down. The lower the price, the lower the percentage of down and the higher the percentage of feathers.
At the bottom are the $9 JORDRÖK or the $10 LUNDTRAV, both made of 90% duck feathers. (Ouch…)
If you prefer not to have down in your pillow, IKEA has a large selection of fill alternatives, including polyester ("down alternative") and memory foam (see ergonomic pillows below).
IKEA Lyocell comforters, sheets, and duvet covers
One of my favorite bedding fabrics is Lyocell. Lyocell is a natural fiber derived from the wood pulp of sustainably grown trees. Lyocell fabric is shiny and soft—like a cross between silk and cotton.
But unlike cotton, lyocell (and silk) is adept at wicking moisture away from your skin. This aids cooling and keeps you healthier by discouraging the growth of nasty things like dust mites, bacteria, or fungi.
There is a downside. Lyocell is susceptible to damage from cat claws… I have several Lyocell comforters where I am now rethinking my previous anti-duvet-cover stance and instead considering placing them in protective duvet covers.
IKEA comforters made of a Lyocell-cotton blend
Like the down comforters, IKEA has "light warm", "warm", "warmer", and "extra warm". Note that several have the same name. Fortunately, there are fewer choices and you won't need a spreadsheet to decide.
STJÄRNBRÄCKA. Comforter, light warm, fabric of 55% Lyocell, 45% cotton, with fill of 50% recycled polyester, 50% Lyocell. "Machine wash very hot". Total weight 77 oz.
As before, make sure you check the fibers under "environment and materials". Note that these comforters are a mix of both Lyocell and cotton. As of this writing, all the Lyocell comforter choices are consistent with 55% Lyocell in the cover, and 50% Lyocell in the fill.
For comparison, my (significantly more expensive) other Lyocell comforters have a cover of 100% Lyocell, and a fill of either 100% Lyocell (Buffy Breeze) or 50% Lyocell and 50% polyester fill (Sheets & Giggles).
Will 50% Lyocell be enough to offset the sins of cotton?
---
Mini-review: STJÄRNBRÄCKA light comforter
They weren't kidding—this thing is thin, resembling a quilt more than a comforter. That's just fine with me.
But it's surprisingly toasty. You can use it as is, but I've combined it with the PUDERVIVA linen duvet cover (see below) and it feels as warm or warmer than my thicker comforters. (But it's really hard to tell…)
Yes, some of the stitching is a little lacking in quality, but for the most part it's fine.
Also, I was disappointed that there were no loops at the corners to attach a duvet cover. This is surprising, considering that IKEA has gone all-in with the duvet covers.
No worries, I used small (around 1 inch) safety pins to secure the comforter to the duvet cover. (Which, FYI, was also missing ties…)
If you are on a budget, this is a good option for cool bedding, especially in the summer months.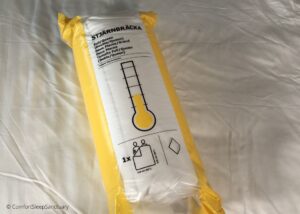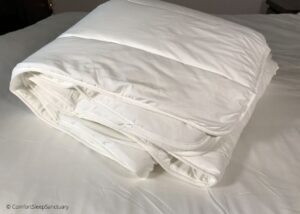 ---
IKEA sheets made of a Lyocell-cotton blend
IKEA also carries sheet sets (top, bottom, plus one-two pillowcases) made of a blend of cotton and Lyocell.
NATTJASMIN. Sheet set. 40% Lyocell and 60% cotton. Multiple colors available.
A crib fitted sheet (LENAST) is also available with 55% Lyocell.
Beware of the ULLVIDE sheet sets, as they have only 15% Lyocell!
IKEA also sells mattress pads / protectors made of 50-55% Lyocell.
Because sheets are right next to the skin, I'm sticking with the best: 100% lyocell (bamboo, silk or linen). I'm not compromising with a cotton blend. There will be no review of these sheets.
Before moving on to duvet covers, first an observation…
Sleep like a Swede
IKEA sells A LOT of duvet covers—over one hundred different choices are listed on their website. More duvet covers than sheet sets. IKEA duvet covers are sold as "duvet cover sets" which include both the cover and one-two pillowcases.
As a Swedish company, it is likely that IKEA follows the Swedish Lagom lifestyle. In Swedish, Lagom means "just the right amount". It is a philosophy that avoids excess and strives for balance and happiness in life.
As part of that, Swedes (and many Europeans) apply Lagom to their sleep habits.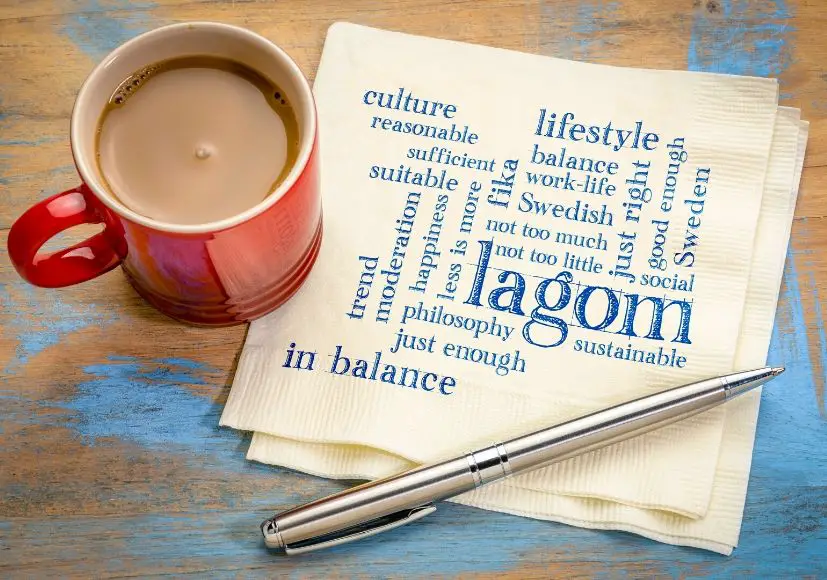 Ditch your top sheet
To simplify bedding, many Swedes eliminate the top sheet altogether. Instead, they sleep directly under a duvet-covered comforter.
The advantage is there is one less sheet to deal with. You are less likely to become entangled during the night, and you can make your bed with ease.
The disadvantage is that you now need to launder that duvet cover as often as your sheets. And wrestle the duvet in and out of its cover each time.
Fortunately, there is an easy way to efficiently put on and take off a duvet cover—see below.
You will especially need to wash more often if you follow another popular Swedish Lagom habit and sleep in the nude…
Of note, IKEA sells sheet sets (top, bottom, pillowcases) and individual fitted sheets for the bottom, but no individual top sheets.
Double duvets for couples
If there is two of you, no need to share a duvet. Both of you should get your own. The hot sleeper gets the thin one and the cold sleeper gets the thick one. No longer will the two of you fight for coverage.
Both of you can now sleep in peace…
If you choose to double-duvet you'll probably want to go down in size. Instead of a single queen or king comforter, purchase two twins (queen) or two twin XLs (king).
Between laundry changes and double duvets, your average Swedish couple must have many more duvet covers on hand than the average American couple.
Which is why IKEA sells a lot of duvet covers.
How to get your duvet cover on an off easily
I made my own video, which happens to showcase the STJÄRNBRÄCKA light comforter above and the PUDERVIVA linen duvet cover, below. Note that neither are designed to attach to one another, so I had to improvise and use safety pins at the corners.
If you wish to keep your comforter from "sloshing around" within the cover, you may wish to add more safety pins along the sides.
Here are the steps of the "roll" method for placing a duvet cover on a duvet/comforter:
Turn the duvet cover inside out and place it on top of the bed
Place the comforter on top of the cover
Secure the corners of the cover to the comforter

If ties and/or loops are not available, use a small safety pin

Make sure you pin at least 4 layers of material within a seam to avoid ripping

Starting from the opposite end of the cover opening, roll the duvet and comforter into a giant roll
Turn the duvet cover right-side out around both ends of the roll
Close the open end of the duvet cover (eg, ties or zipper)
Place the roll at the bottom of the bed and unroll it. Voila!
To remove your duvet cover, simply reverse these directions
Duvet covers don't need to match the size of the duvet
Yes, ordinarily, you would place a queen comforter or duvet into a queen-sized duvet cover. But you're not obligated to do so.
If you wish your duvet to be puffier (and warmer) you can force a larger comforter into a smaller duvet cover. Place a king comforter into a queen- or full-sized cover.
Although five inches longer a twin XL comforter can easily go into a twin-sized cover.
Doing the reverse is a bit trickier. Yes, you could place a queen comforter into a king cover, but you'll have flatness on both sides where there is no comforter. You may need to use safety pins to secure the edges of the comforter in the middle. On both sides, tuck in the flatter areas under your mattress for a cleaner look.
If in doubt, you can always check the dimensions available under "Product size" and match those of the comforter with the duvet cover.
IKEA Lyocell duvet cover sets
One of the jobs of a duvet cover is to protect the duvet (or comforter). Which then leaves the duvet cover itself subject to damage.
You need to either purchase a tough duvet cover (see Linen below) or not pay very much for your cover. Switch it out when it gets damaged or if you simply wish to change your décor.
As mentioned above, Lyocell is susceptible to cat claw damage. Cotton is a tad more resistant, so the expectation is that a Lyocell-cotton comforter or duvet cover should also be a tad more resistant than 100% Lyocell.
If you've gone to all the trouble to purchase a nice Lyocell comforter, DO NOT stick it into a 100% cotton duvet cover. All that Lyocell benefit is now going to waste…
If you have pets that spend time on your bed, consider a relatively inexpensive IKEA Lyocell duvet cover to protect your more expensive lyocell comforter.
There is a wide range of available Lyocell duvet cover sets, ranging from 15% Lyocell (why bother!) all the way up to 100% Lyocell. Most contain a moderate amount, either 40% or 55% Lyocell (60% or 45% cotton). Again, check the fine print under "Environment & materials".
---
Mini-review: JÄTTELILJA Lyocell duvet cover
As I make sacrifices for science, I purchased the following lovely duvet cover made of 100% Lyocell:
JÄTTTELILJA. Duvet cover and pillowcase(s). 100% Lyocell cover with 100% polyester embroidery thread.
As a bonus, the embroidery will be an additional target for cat damage.
Yes, it is indeed lovely, with a smooth, silk-like feel. If you get tired of the red birds and flowers, simply turn it over for a minimalist pearl-white look.
I'm usually not a fan of sham pillowcases, as they are usually intended for decoration only. But these are thin and silky enough to sleep on.
Although there were ties at the bottom to close off the duvet cover, I was disappointed that there were no ties on the corners or sides to attach it to a duvet.
No worries, I used small, one-inch safety pins to secure the corners to the comforter.
If using safety pins, make sure you pin through at least four layers within a seam, so the entire thing doesn't tear
As duvet covers go, I would recommend this.
(And yes, I'm already noticing a bit of claw damage…)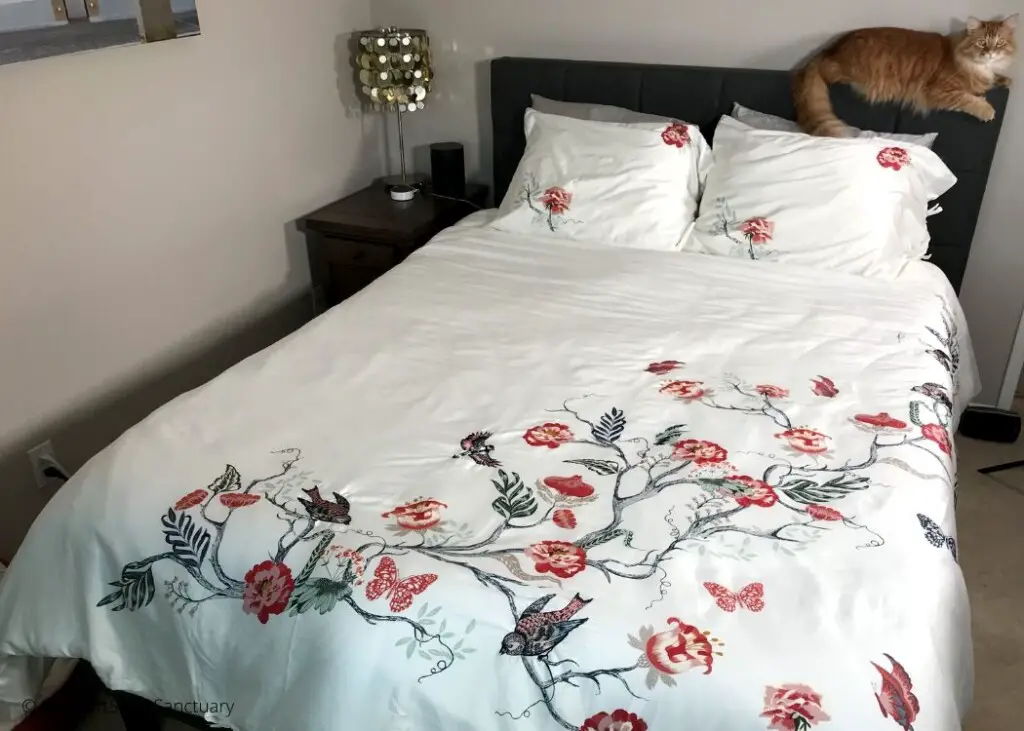 ---
IKEA linen duvet cover sets
Linen is also a natural fiber, made from the flax plant. Like Lyocell, linen is very good at wicking away moisture and keeping you cool, which is why linen clothing is so popular to wear during the summer.
Linen is much tougher, and longer wearing than both Lyocell and cotton. Linen bedding is sometimes passed down from generation to generation. (Linen wrapping on mummies is still there, thousands of years later.)
The downsides of linen include the high cost, and rough texture. That roughness softens over time and multiple washes. To speed things up, most linen bedding comes "stonewashed".
Linen also wrinkles which is part of its charm, giving your bedroom a bohemian lived-in look.
If you must, you can iron out the wrinkles. Indeed, ironing will help soften up the fibers even more.
Unlike smooth Lyocell, pet fur sticks to linen like Velcro. A good lint brush is in order.
Relatively speaking, IKEA linen duvet cover sets are significantly MORE expensive than their other duvet cover sets but significantly LESS expensive than linen from other brands.
The best flax is grown in either Belgium, France, or a neighboring EU country. IKEA does not specify where their flax is grown or where the linen was made. Nor do they indicate if their linen has been stonewashed.
---
Mini-review: PUDERVIVA linen duvet cover and pillowcases
Am I going to pass up an opportunity to purchase linen at a bargain price? NOT!
PUDERVIVA. Duvet cover and pillowcase(s). 100% linen, "machine wash very hot". Available in several colors.
For comparison, I've also purchased a set of stone-washed Brooklinen linen sheets, made of flax sourced from Belgium and France. (Brooklinen linen duvet covers run around twice the cost of the IKEA brand, and don't include pillowcases.)
It should be a surprise to absolutely no one that the Brooklinen sheets are significantly softer, resembling cotton that has been washed extensively.
The IKEA linen is a lot rougher. This is annoying if you choose to lie your face against the pillowcases and follow the European tradition of sleeping directly under the duvet cover.
On my to-do list: research ways of softening linen (without breaking my washing machine). Stay tuned…
Again, there were ties at the bottom to close the cover, but no ties at the corners to secure the cover to your comforter/duvet of choice.
Fortunately, I've purchased safety pins in bulk…
If you need a cooling fabric, but don't mind the rough feel, they are a great value.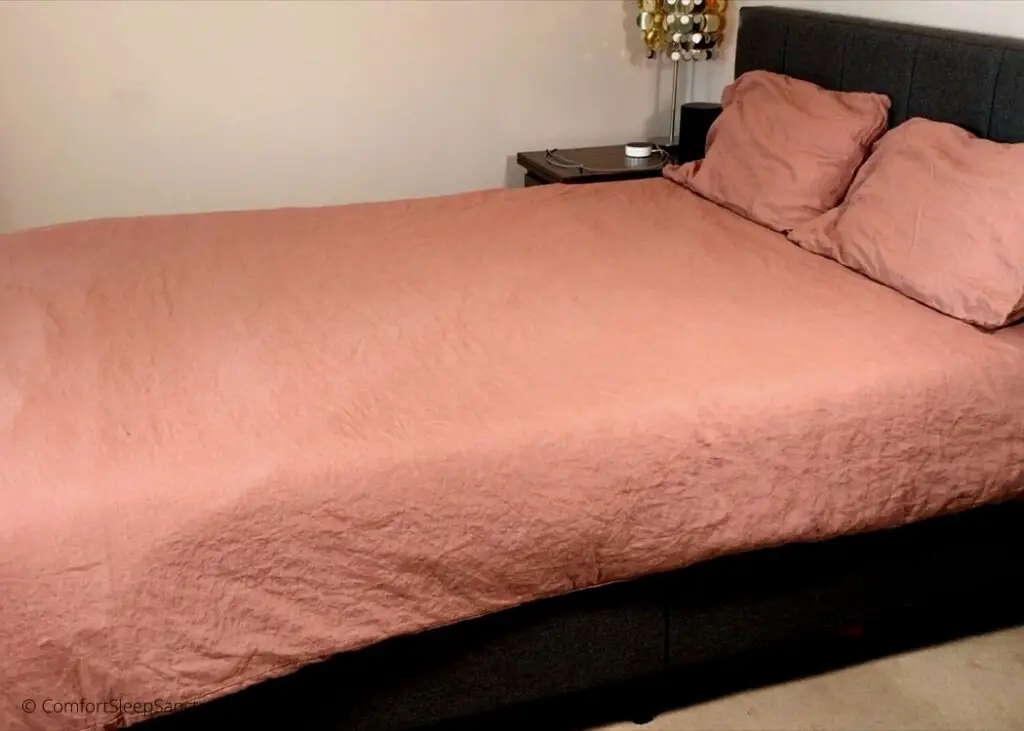 ---
IKEA $10 Comforter
There are few IKEA items so cheap I had to try them. If they don't work out, I'll simply toss them in my donation pile.
MYSKGRAS. Comforter, cooler. 100% polypropylene fabric with 100% polyester fill. 45 oz (queen). $9.99 for full/queen and $7.99 for twin
This comforter is described as "cooler" and weighs less than most of the other comforters. It's filled with the usual 100% polyester fill typical of most non-down comforters.
What is intriguing is the 100% polypropylene cover. Polypropylene is a synthetic fabric found in high-performance workout wear. Despite being synthetic it is described as "very breathable". It doesn't absorb moisture but is very good at wicking that moisture away from your skin.
How does it compare with my other "cooling" comforters?
---
Mini-review: MYSKGRAS $10 comforter
Because of the price point my expectations were low…
First, this clearly isn't "finished" like other comforters. It is intended to be used within a duvet cover (or at least hidden under other sheets or blankets.)
It is very thin, with a thin covering made of polypropylene. This material is manufactured with tiny holes for breathability. (No, it doesn't resemble the sturdier high-performance materials found in workout wear.)
I've seen the type of material before: it's a common component of breathable blanket/comforter storage bags. (Which I have quite a few of, for some reason…)
I've also seen this type of material at the bottom of pet beds. I don't know if this was the same material, but the material under the pet beds literally disintegrated within a year.
It's unclear if this comforter will hold up.
But for $10 does it matter?
Stuff it in your favorite duvet cover to create a lightweight blanket.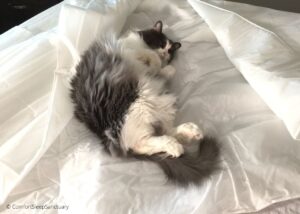 ---
IKEA ergonomic pillows
Several ergonomic pillows are available, depending on whether you prefer to sleep on your side, back, or everywhere.
KLUBBSPORRE. Ergonomic pillow, multi position, Queen. Solid memory foam topped with a cooling gel layer
This ergonomic pillow is designed for all sleep styles.
Even though memory foam is notoriously hot, this memory foam uses two strategies to keep you cool. One is the inclusion of small holes within the foam to encourage air circulation. The other is a layer of cooling foam.
Note, this pillow is queen-sized and will require the longer queen-sized pillowcases.
Unlike almost everything else on this list that can be machine-washed ("very hot") only the removable cover should be machine washed.
(Memory foam pillows can and should be washed occasionally, but it will need to be done by hand.)
PRAKTVÄDD. Ergonomic pillow, side sleeper, Queen. Memory foam core with microfiber filling
This pillow is designed for side sleepers.
The memory foam core is wrapped in a thick layer of microfiber and enclosed in a 100% cotton cover. The cover is removable and washable. However, it doesn't appear that the microfiber layer can be adjusted to accommodate a flatter pillow if needed. (You could stuff additional fill in the cover if you needed a higher pillow.)
(Like the memory foam pillow above, spot clean and hand wash only.)
Other ergonomic pillows include the basic SKOGLÖK for $7.99 which is filled with standard polyester fill but contains an indentation on one side to cradle your head.
IKEA $2 pillow
Although not as plentiful as duvet cover sets, IKEA has a wide selection of pillows at various price points.
---
Mini-review: SLÄN $2 pillow
It was only $2, why not?
IKEA has two two-dollar pillows to choose from: the "firmer" AXAG, and the "softer" SLÄN.
SLÄN. Pillow, softer, Standard. 100% polypropylene fabric with 100% polyester fill. "Machine wash very hot"
As mentioned above, polypropylene is a breathable fabric that stays dry. When placing my IKEA order only the SLÄN was available.
I knew there would come a price point where we drop from "good value" to simply garbage. We have officially dropped to that point!
(Which is pretty good, considering I thought we'd drop earlier, with some of the other items reviewed above.)
Even "soft" pillows need some degree of hidden firmness to hold your head at the proper height. Your head, neck, and spine need to be in alignment. In other words, create one straight line.
This soft pillow is so soft and lacks ANY firmness that your head sinks completely to the bottom, defeating the purpose of having a pillow in the first place.
I did discover a hack: if you fold it in half and "smoosh" it into a smaller square, you can generate enough firmness and lift to support side sleeping. But why bother?
I originally thought this would make a good disposable pillow for car travel, but its not even good enough for that.
Some crafty types out there may find a non-pillow use for it…
Otherwise, give it a hard pass.
---
Some unexpected IKEA treasures for the bedroom
IKEA Air purifying curtains
The fabric of these curtains was developed by the Swiss company HEIQ and—at the moment—the curtains are sold exclusively by IKEA.
HEIQ develops cutting-edge fibers, including HEIQ Smart Temp, found in cooling bedding, such as mattress pads.
GUNDRID. Air purifying curtain, 1 pair, 57×98", available in a few colors.
These curtains use ultraviolet (UV) light from sunlight to break down volatile organic compounds (VOCs) that may pollute our indoor air. These include acetaldehyde, formaldehyde, and nitrogen oxide (NO).
Many items, such as building materials, new furniture, carpet, paint, etc. will release VOCs slowly over time.
Newer, energy-efficient homes are built to prevent leaks, and without an air exchange system to swap stale indoor air with fresh outdoor air, they may be especially prone to poor indoor air quality.
According to the Environmental Protection Agency (EPA) poor indoor air quality can have both immediate and long-term negative effects.
I'm fortunate that I live in a mild climate where I can keep my windows cracked 24/7, but others aren't so lucky.
Because the air purification is activated by sunlight, it would be best to place these in the sunniest windows.
Except for very high-end models, all windows let in ultraviolet light. Are your couch cushions fading because they sit too close to a sunny window? UV is to blame.
---
Mini-review: GUNDRID air purifying curtains
Unfortunately, I can't test whether they purify the air. I can however, comment on their appearance.
They come in one length—long (98"). If you have windows in a home with a standard-sized ceiling height, you'll either need to hem them or be okay with them pooling on the floor.
This wasn't clear to me originally, but these are "sheer" curtains, intended to let the light in. If you need blackout curtains, you'll need to position these facing the widow, with a second set of curtains facing out into the room.
I purchased the grey pair. It is a flat grey, with no shimmer. Very generic. They'll be good for a simple modern look or combined with other curtains.
---
Sonos speakers (in a lamp)
I've written previously about SONOS music systems. SONOS uses its own proprietary networking system to connect speakers throughout your house and integrate them with popular music streaming services. Voice control through either Amazon Alexa or Google Assistant is also available.
But SONOS speakers are pricey!
IKEA has partnered with SONOS to create speakers that can be either used alone or integrated with your current SONOS ecosystem.
One of their speakers is integrated into a nifty lamp, perfect for your bedside.
Or on either side. If you use two speakers, you can have stereo sound. Or use two as the rear speakers in a complete surround sound system.
If you don't have a SONOS system, this speaker connects to your music via WiFi and may also be controlled via AirPlay.
Is the sound as good as other SONOS speakers? According to most reviewers, no. But at this price point you wouldn't expect it to.
Unless you're a hardcore audiophile, this could be a budget way of testing out SONOS for yourself.
---
Top image: © Nina Firsova via Canva.com
---
Want to learn more about the products mentioned?
[If you experience issues with menus or links not working, it is most likely due to your Ad blocker.]