**This page contains affiliate links and I will be compensated if you make a purchase after clicking on my links**
Back in the day, I used to travel often for work, spending an average of 1-2 nights per week in a hotel. I learned a lot about hotel chains.
Many hotel chains design their rooms to look identical, whether you stay at a property in Texas, or in Timbuktu. I traveled so much, that at one point I was seriously considering designing my home bedroom to resemble a typical Marriott hotel room.
As a business traveler, I stayed in "premium" accommodations. Marriott, Sheraton, Hyatt, and Hilton are brands I know well.
Although I'm far pickier about my bedding these days, I was always very satisfied with the bedding I slept on away from home.
When large hotel chains purchase bedding, they are evaluating the same criteria we all do, but on a much grander scale.
Hotels use bedding that must meet the following criteria:
High quality. Sheets must feel good to the guests, so no cheap scratchy cotton or non-breathable 100% polyester.
Durable. Sheets may be changed and laundered daily. They need to hold up.
Easy care. Throw them in the washing machine, then the dryer. No ironing required as most housekeeping teams do not have the time.
Good value. The bottom line is important in all businesses. What are the best quality, durability, and easy care for the price?
All the criteria above may be different based on your budget, or in the case of the hotel, what level of customer you are targeting. Are you a "budget" hotel, or instead "premium", or even "luxury"? The higher your level, the more you charge, and the nicer the bedding needs to be.
We'll focus on three levels, "moderate budget", "premium", and "luxury". (In the hotel world, "moderate budget" isn't a real marketing description. These hotels are usually described as "Select" or something as equally non-descriptive.)
Popular hotel brands
| Hotel family | "Moderate budget" | "Premium" | "Luxury" |
| --- | --- | --- | --- |
| Hilton | DoubleTree, Embassy Suites, Hilton Garden Inn, Hampton, Homewood Suites | Hilton | Waldorf Astoria, Conrad, LXR |
| Marriott | Courtyard, Springhill Suites, Four Points | Marriott, Renaissance, Sheraton, Westin | The Ritz-Carlton, W Hotels, JW Marriott |
Note, that the Sheraton family is now owned by Marriott. This is a limited list of popular hotel brands.
Hotel bedding available to the consumer
All these brands have online shops where you can purchase their bedding. Even their signature mattresses. This bedding may or may not be the same bedding they use in their hotels. They market this bedding as "having the same experience" as the hotel, but that could mean anything…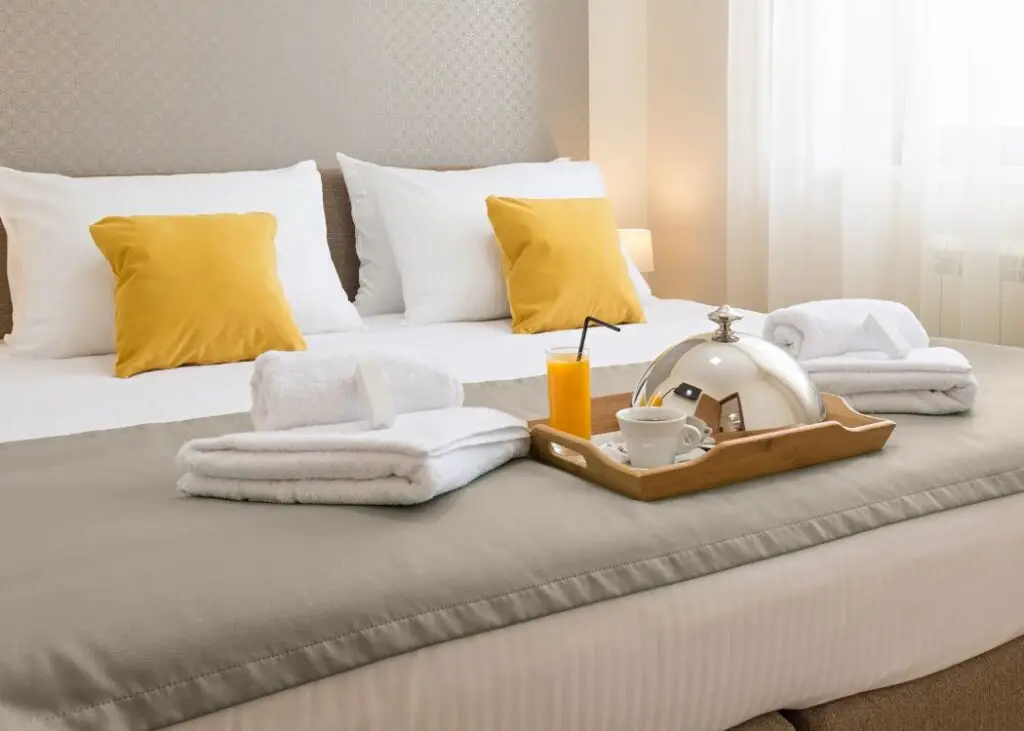 Sheets
Most sell a standard ("signature") set of sheets that are a 300-thread count, crease-resistant cotton blend. The "cotton blend" is most likely a blend of cotton and polyester. Cotton to provide softness and breathability and polyester for durability and resistance to wrinkling. In general, cotton-blend sheets are less expensive than 100% cotton sheets.
Note, 300-350 thread count is considered best by the experts. When it comes to thread count, more is not necessarily better. Buyer beware, sheets advertising a very high thread count usually use low-quality, thin cotton fibers that have a dense weave that may limit breathability.
Interestingly the Marriott luxury-branded online store ("Curated by JW") sells sheets with an identical description, but currently for less money than the Marriott site… Likewise, their Courtyard store also appears to sell the same sheets at a better price.
It pays to shop around, even for branded hotel sheets
(And obviously the hotel itself is paying much less for sheets, purchased in bulk directly from distributors.)
Several hotels up the game, with 300-thread count 100% Egyptian cotton, made in Italy. Egyptian cotton is extra-long-staple cotton. These extra-long fibers produce a more durable and soft feeling sheet.
These hotel sheets are also described as sateen. Unlike the more common percale weave, the sateen weave is thicker and has a more luxurious feel (and price). Unfortunately, because of the tight weave, sateen doesn't breathe as well as percale.
Hilton sells these sheets both on their "Hilton to home" site, and their "DoubleTree at home" sites (fortunately at the same price).
In the same hotel family, the luxury brand, Waldorf Astoria, sells "100% sateen sheets" for over twice the price… The luxury-branded sites don't necessarily sell better sheets, just more expensive ones.
On the other end of the budget spectrum, Hampton and Homewood Suites sell a "cotton-polyester blend" sheet.
In hotels, cotton-polyester blends are most common. Higher quality sheets of 100% Egyptian cotton sateen are also available.
There doesn't seem to be consistency, with luxury brands such as JW Marriott and W Hotels using regular cotton/polyester blend sheets, while Egyptian cotton can be found associated with less expensive premium hotels.
[Turn your cell phone sideways for better viewing.]
| Sheets | | Cotton blend | 100% Egyptian cotton sateen |
| --- | --- | --- | --- |
| "Moderate budget" | Courtyard | X |   |
|   | DoubleTree | X | X |
|   | Hampton | X |   |
| "Premium" | Hilton | X | X |
|   | Marriott | X | X |
|   | Renaissance | X | X |
|   | Sheraton | X | X |
|   | Westin | X | X |
| "Luxury" | JW Marriott | X |   |
|   | The Ritz-Carlton |   | X |
|   | Waldorf Astoria |   | X |
|   | W Hotels | X |   |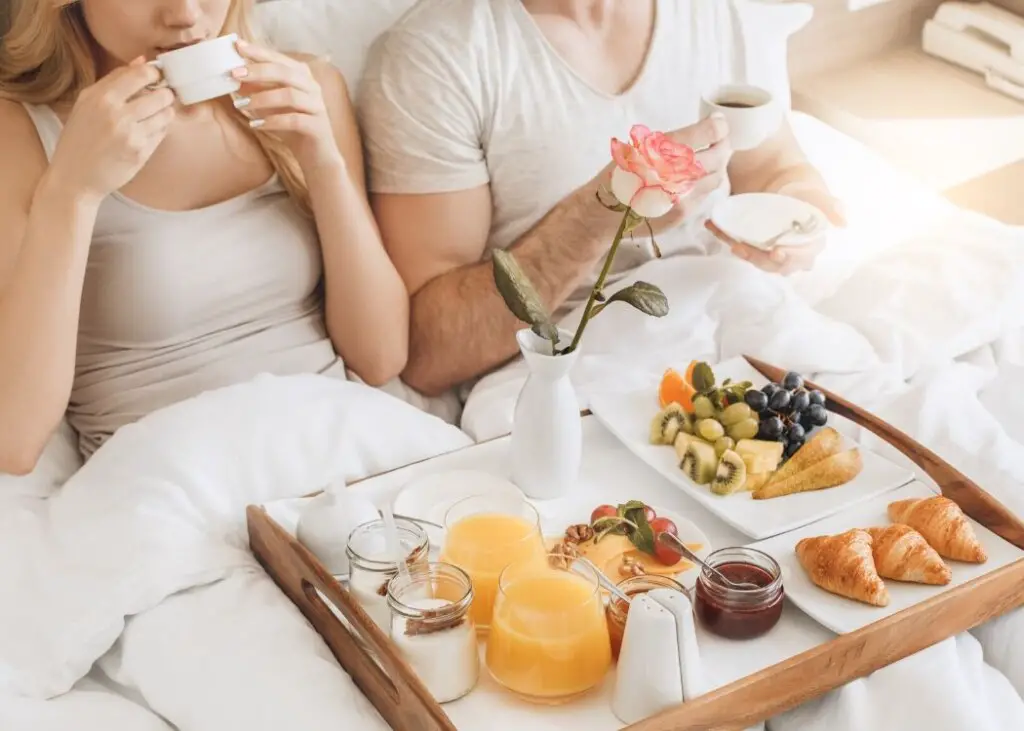 Pillows
Most hotels will provide you with a choice of pillows, such as foam, polyester fill, and even down. Simply call the front desk and have your favorite pillow sent up. Alternatively, you may find five completely different pillows arranged neatly on your king bed.
Likewise, many different types are available to purchase online from their websites.
"The Marriott Pillow" (and "The Courtyard Pillow" and "The Renaissance Pillow" and "The Ritz-Carlton Pillow" and "The JW Pillow") all have an inner chamber of duck feathers, an outer chamber of 70% white down and 30% Lyocell, all wrapped in a 100% cotton "down-proof" cover. (This pillow is described as "allergen-free" which seems suspect considering that many of us are allergic to down and feathers.) Despite all the down, this pillow is machine washable.
It should be obvious that everything used in a hotel setting should be machine washable.
Marriott, Courtyard (etc.) and the other hotels sell a wide selection of pillows. These include traditional white duck down pillows—also machine washable—and less expensive pillows made of 50:50 feathers and down. Eco-friendly down alternative (hypoallergenic) pillows are also available.
As a reminder, the feathers in a feather pillow contain the outer feathers of the duck. These feathers are so pokey they can work their way out of the case. In contrast, down is the soft inner feathers, and provides superior loft and insulation. Down is much more expensive than feathers.
Down alternative is a polyester fill that is designed to feel like real down, but at significantly less cost. It has no allergy issues, and no ducks had to sacrifice their lives for your comfort.
Because of their cost, 100% down pillows may not be available in more budget-minded hotels.
| Pillows | | Down alternative | Feathers + down | Down | Feather core with down + Lyocell |
| --- | --- | --- | --- | --- | --- |
| "Moderate budget" | Courtyard | X | X |   | X |
|   | DoubleTree | X | X | X |   |
|   | Hampton | X | X |   |   |
| "Premium" | Hilton | X | X | X |   |
|   | Marriott | X | X | X | X |
|   | Renaissance | X | X | X | X |
|   | Sheraton | X | X | X |   |
|   | Westin | X | X | X |   |
| "Luxury" | JW Marriott | X | X | X | X |
|   | The Ritz-Carlton | X |   | X | X |
|   | Waldorf Astoria | X | X | X |   |
|   | W Hotels | X | X | X |   |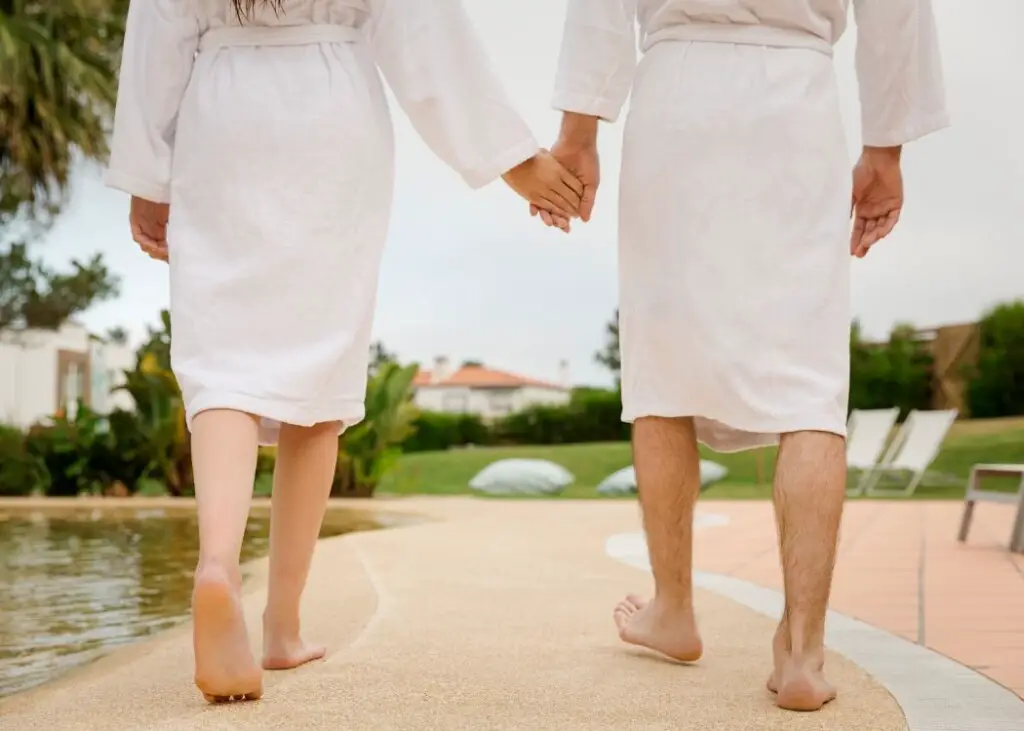 Blankets, Comforters, and Duvets
These terms may be used interchangeably. Basically, a comforter is an outer shell, usually cotton, filled with polyester, down, or a similar insulating and fluffy fill. Thinner comforters are sometimes sold as "blankets" and thicker, fluffier comforters are sold as "duvets".
A comforter or duvet may have a duvet cover to protect it.
Many of us are familiar with the hassle of wrestling a duvet cover on and off. Many hotels practice a neat trick:
To protect your duvet (and provide a clean area to sit on the bed) sandwich your duvet between two top sheets. This is called triple-sheeting.
Remember in the old days of hotel bedspreads? Those didn't get laundered as often as you probably thought. Naked guests would sit on those all the time…
No more; now a fresh clean top sheet is the new bedspread. It can be changed out and laundered along with the sheets.
In Europe, sometimes they skip the flat sheets altogether and you sleep directly under a covered duvet.
And obviously, all the blankets, comforters, and duvets are fully machine washable.
Down and Down alternative (polyester) fills predominate. Some hotels also provide lightweight, midweight, and heavyweight versions of each.
| Blankets, comforters, and duvets | | Down alternative fill + 100% polyester cover | Down alternative fill + cotton blend cover | Down alternative fill + 100% cotton cover | Down fill + 100% cotton cover |
| --- | --- | --- | --- | --- | --- |
| "Moderate budget" | Courtyard |   | X |   | X |
|   | DoubleTree | X |   |   | X |
|   | Hampton | X |   |   |   |
| "Premium" | Hilton | X |   |   | X |
|   | Marriott |   |   | X | X |
|   | Renaissance |   |   | X | X |
|   | Sheraton |   |   | X | X* |
|   | Westin |   | X |   | X |
| "Luxury" | JW Marriott |   |   | X | X |
|   | The Ritz-Carlton |   |   | X | X** |
|   | Waldorf Astoria |   |   | X | X |
|   | W Hotels |   |   | X | X |
*Sheraton sells both a 100% down duvet with a 100% cotton cover, as well as a white down "blanket" with a cotton blend cover. **The Ritz-Carlton sells both a 100% down duvet, as well as a duvet of 70% down, 30% Lyocell fill; both with a 100% cotton cover.
For down alternative comforters, the cover may be either polyester, polyester-cotton blend, or 100% cotton. As expected, the higher-end brands are more likely to be associated with the 100% cotton cover.
In addition to bedding, you can also purchase robes, slippers, towels, and bathroom toiletries.
White sheets, white bedding, white towels, and white robes
These days every hotel uses white bedding. Sheets, blankets, towels, everything! With white sheets, it's impossible to hide any stains.
To us, they look clean, which is important when staying as a guest in a room used by many other people.
We also associate white sheets with luxury. At home, many of us may forego white sheets, because they are harder to keep looking white. ("Grey" is a very popular color for sheets right now.)
For the hotel, it's also easier to have everything one color. All the bedding and the towels can be dumped into one laundry load, along with bleach or bleach alternative.
Why do hotel sheets feel nicer than my own sheets?
If you're on vacation away from the stresses of your real life, everything feels nicer.
Likewise, if you associate white sheets with the soft feel of luxury, then yes, they will feel nicer.
Also, there's nothing better than freshly laundered sheets. The ones on your bed at home have been there for a few days (weeks?) They're weighed down with just a tiny bit of sweat, grime, and moisture. (Perhaps just enough to only notice on a subconscious level.) Freshly laundered sheets are crisp and very dry.
Hotel sheets are washed far more often than our own. Grime doesn't have a chance to set. Therefore, it's far easier to keep them white.
Hotels also have another trick for removing wrinkles without ironing:
After making up the bed, spritz it with a fine mist of water, then use your hands to smooth out wrinkles
Higher-end hotels may also take the time to iron and starch which will give your sheets a decidedly crisper feel.
Cotton sheets also become significantly softer after multiple washes. The harsher the washing conditions, the faster they soften. Of course, harsh washing, plus daily wear, softens cotton but also wears it out faster.
But I suspect most hotels don't throw out sheets until there is "visible" wear.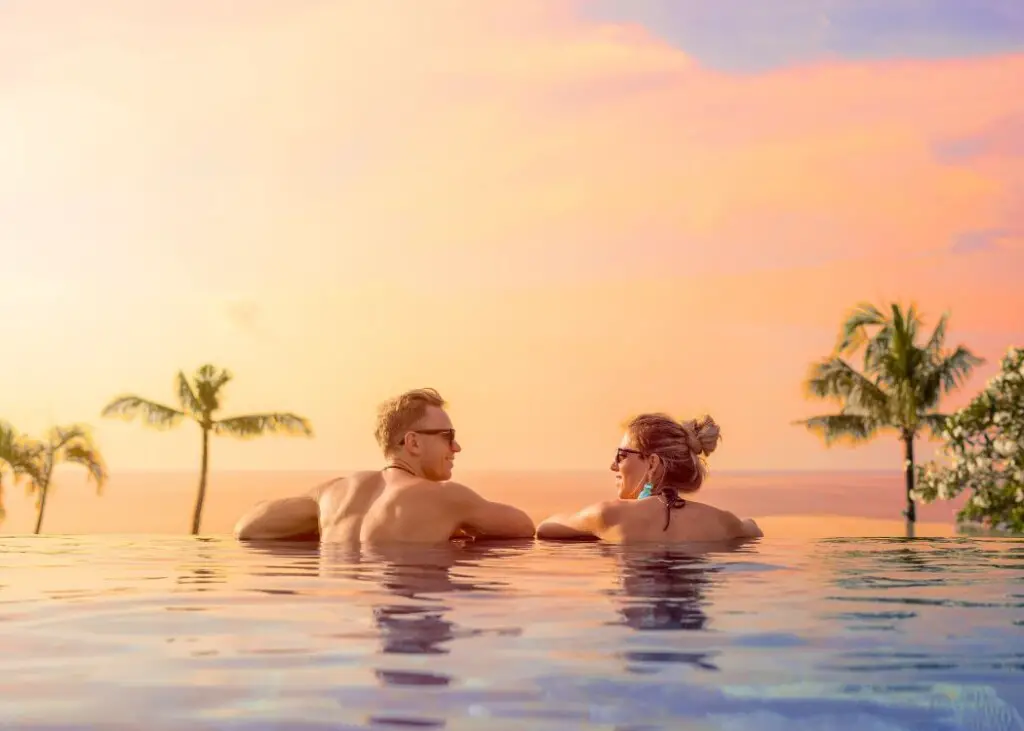 First photo credit: © Uknown via Canva.com
---
Want to learn more about the products mentioned?
---
BONUS video: Make Your Bed Like a Hotel
[If you experience issues with menus or links not working, it is most likely due to your Ad blocker.]